As the summer moves along, I review old syllabi and create new ones. I've not taught my course "The Space Race" for a few years, but I did review the course materials and the word "suborbital" popped up. It's a newcomer, with The OED only dating it to 1950.
That term describes not the free-fall of something orbiting the earth, but a specific altitude where one experiences a short period of weightlessness. Humans have been there, and beyond, since the early 1960s, with Alan Shepherd being the first American to do so. For those with enough money, however, there are now other options.
Suborbital flights will likely be in the news soon, as Sir Richard Branson's latest craft, VSS Unity, has completed test flights and may, within a few months, take paying passengers to the edge of space.
When I explained suborbital fight to my students, I used the old cliche "what goes up MUST come down." You can see it in the following image of the first two Project Mercury flights.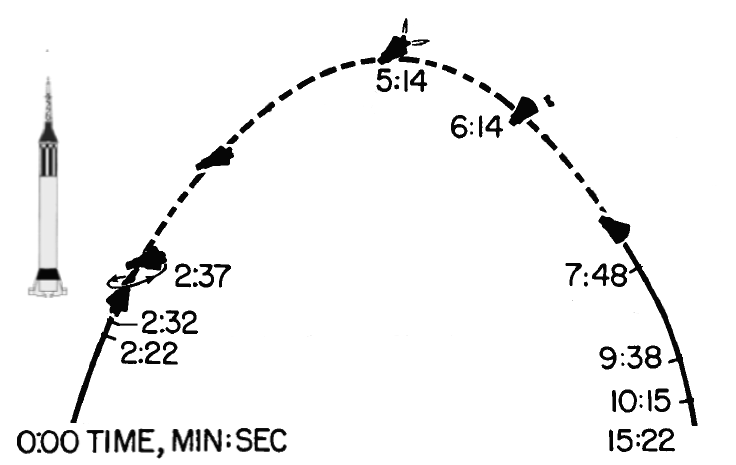 Note the vertex (highest point) of the parabola and the brief duration of the journey. NASA's little Redstone rocket, a borrowed Army missile based in Werher von Braun's V-2, did not have the power to lift a capsule and astronaut into a true orbit, where an object is under the influence of gravity without any drag acting upon it. It falls forever but unlike a skydiver, the object in orbit has its decent checked by its forward momentum around the Earth. That perfect balance can last for a few hours or even years, if the spacecraft occasionally boosts its orbit, but for those like Alan Shepard or Sir Richard's spacefarers, the craft do not attain free fall. They skim into the edges of space, then begin to descend. For a few moments, as they fall, travelers experience zero gravity (and Virgin Galactic customers find their wallets about a quarter million dollars lighter).
Perhaps in the era of cheaper access to space, costs will drop as they once did for airline travel. For now, experiencing suborbital flight seems a luxury for the rich, but so did transcontinental air travel during my parents' lifetime.
Now we complain about legroom and the food and do not even look out the windows.
Addendum 6/25/18: Dr. Peter Smallwood, UR Department of Biology, reminds me that "For me, suborbital is a vein, bone, or a fracture in the bone just below the eye."  That is the OED's first definition, but to space-junkies like me, anything about human spaceflight drowns out the rest.
Virgin Galactic and suborbital fight images courtesy of Wikipedia.
This blog will continue all summer, so nominate a word by e-mailing me (jessid -at- richmond -dot- edu) or leaving a comment below.
See all of our Words of the Week here.