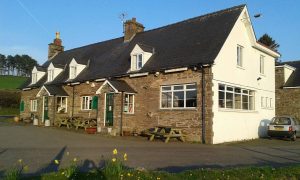 I don't mean the vehicle in your driveway: our word predates by at least 1000 years Henry Ford's horseless carriage and all that came from it. While of little use in academic prose, the word demonstrates the history of an everyday word made nearly obsolete by bridges. You may have sat in or driven a Ford, but when was the last time you crossed at a ford, to ford a river?
Decades back (time flies) I dined in the pub of a roadside Inn in rural Wales called "The Old Ford Inn." It's a charmer and it's still around. When you tour the Brecon Beacons area, be sure to stop in.
My snapshot of the sign was on film, since it proved to be the last vacation taken without a digital camera (now, my phone does that duty). I well recall an image showing a Model T Ford motorcar crossing a stream at a shallow spot: the original meaning for a ford, both noun and verb.
The term dates to the Middle Ages, and the term was also "ford" in Old English. Variants include "vord" (Middle English) and "forde." All indicate a shallow place for crossing a river. See the OED entry for examples.
It remains mysterious how the surname "Ford" emerged. For people who lived near a ford? Or were the first fords ford-keepers, as there were smiths, carpenters, tailors, shoemakers, tinkers, and leathermen? All these trades, and variants of them, became surnames when such things originated. Peter Ackroyd's excellent history, London: The Biography discusses the emergence after the Norman Conquest of 1066. Read a bit more at the BBC about the process.
So where did Henry's ancestors get their last name? A Wikipedia page gets beyond the shallow waters here. Whatever your last name, take a look.
As always, please send us words and metaphors useful in academic writing by e-mailing me (jessid -at- richmond -dot- edu) or leaving a comment below.
See all of our Metaphors of the Month here and Words of the Week here.
Image courtesy of The Old Ford Inn, Llanhamlach, Brecon. The local lamb, when it's the roast of the day, is to die for. The same goes for any of the meat pies.