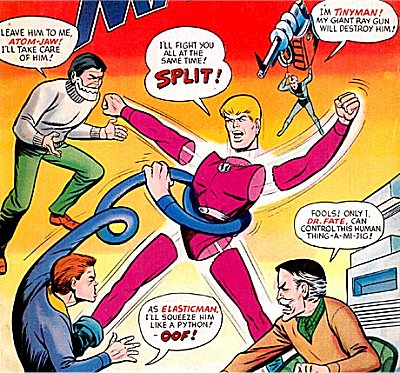 I am known for my hatred of superhero movies and, frankly, the entire genre of the superhero comic book. The plot arcs are so often predictable, the attempts at stirring our emotions so bombastic. I do enjoy the occasional effort such as Kickass that subverts the conventions of the genre, but that sort of film sounds its yawp into the teeth of a hurricane.
Now our superpower-obsessed tastes, not being content with ruining popular cinema, are also dumbing down speech, even student prose.
This morning during my drive to work, I listened to an otherwise talented NPR reporter use the adjective "super" to describe aspects of a refugee simulation under way. Her sloppy use of the term undercut the seriousness of the story: an Iranian immigrant who had fled Iraqi airstrikes in the First Gulf War teaches others how the experience of fleeing one's home might feel.
The reporter, speaking too fast as so many current NPR staff do, described a life-raft as "super cramped" and at about that point, I wanted to turn off the radio. It's a lazy word, "super," that slowly has been creeping into student writing. I plan to add it to my Pet Peeves list at Writer's Web.
The usage illustrates what Joe Glaser, author of Understanding Style, decries as too much informal diction seeping into formal writing. I have yet to see a student in my "Space Race" First-Year Seminar refer to the Saturn V moon rocket as "super big,"  but I await that dark day with each written response.
My hunch about "super," as with the even worse "totally," comes from the increased orality and interruptive nature of informal speech. I hear students talk over each other, omitting nuance and forethought. Most of my students and even some of my peers are not doing as much serious reading–if any reading at all–beyond what a class assigns. When my students do read, they do not engage in any reflection on how a decent author crafts a sentence or uses language in surprising ways.
Thus non-readers are left with a small grab-bag of simple modifiers. "Super" has become the modifier of choice to replace other simple adjectives and adverbs:  "very," "extremely," "extensively," and the like.
In my courses, all of them more or less based upon a 100-point scale, I plan to deduct 1 point for "super" used in place of a more descriptive word. And I plan to be super clear about that.