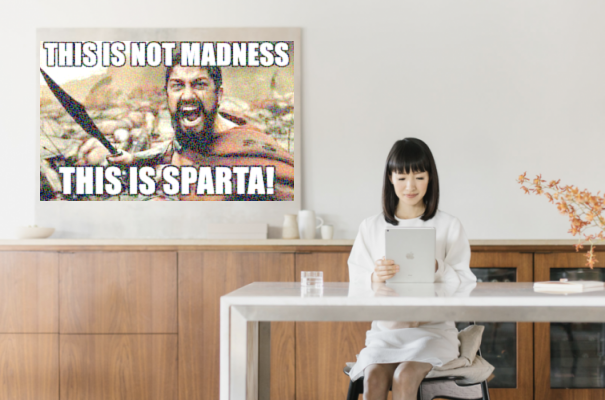 Let's continue the Peloponnesian fun with another word from Ancient Greece, in fact, from Laconia that gave us last week's "laconic."
Sparta was, of course, one of the most powerful Greek city-states. Yet why did a friend describe a minimalist's house as "Spartan"? How did the virtues espoused by Marie Kondo align with those of King Leonidas?
It's clearly a metaphor associated with "not having a lot of stuff / bare bones /  austere / reduced to essentials." A look at the culture of ancient Sparta yields a lot of good information on Spartan values: hierarchy, simplicity, a militant orderliness for all things. The OED dates this sense of the adjective to the 19th Century, for frugality or brevity (as in a laconic reply).
Since this is still Sparta at our blog, or at least a pretense of it, I'll end there.
Please send us words and metaphors useful in academic writing by e-mailing me (jessid -at- richmond -dot- edu) or leaving a comment below.
See all of our Metaphors of the Month here and Words of the Week here.
Marie meets Leonidas, courtesy of Photoshop.