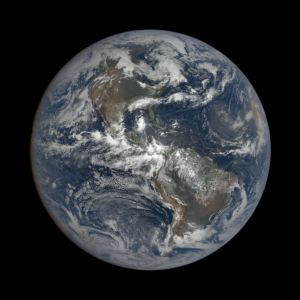 I will not list the bad things that have befallen us all in 2020. We still, in the States, must endure two more months before a fraught election, spikes in COVID deaths, civil unrest, tropical storms, wild fires, hurricanes, and perhaps a stray asteroid. Yes, a small one will pass the Earth the day before we go to the polls (or vote by mail and cross our fingers).
The idea for this metaphor struck me, like the eyewall of a Cat-4 storm, last night as I saw an image of our fragile, string-of-light cities dwarfed by Hurricane Laura. Truly, it's a horrible year.
No, it's not 1914 when Europe realized what modern warfare and the Maxim gun really meant. It's not 1348 when the Black Plague carried off perhaps 50% of Europe's populace. It's not 1492, when the genocide of indigenous peoples in the Americas began, or 1619, when the first slave ships came to Virginia. It's not 1945, a year of victory for the Allies but for the citizens of Axis nations, a time of fire-bombs, starvation, and atomic weaponry. It's not even 1918-19, when the "Spanish Flu" (which seems to have begun at Fort Riley, Kansas) took the lives of perhaps 50 million, globally.
Have I made my point? Any of these could, depending on one's view of events, be an "annus horribilis." The term itself, a modern borrowing from Latin, surprises me by only dating to 1985. Queen Elizabeth II's famous quip with the term comes 1992, and that's when I first heard the phrase. If you are curious why, read this. The OED notes the kinship with the earlier annus mirabilis, or year of wonders. John Dryden published a book of that title in 1667.
I would enjoy a year of wonders in 2021. Wouldn't you?
Send us words and metaphors, wondrous, horrid, or banal! E-mail jessid-at-richmond-dot-edu with your nominees. See all of our Metaphors of the Month here and Words of the Week here.
Image Credit: NASA/NOAA. Note the storm is visible from a million miles out.