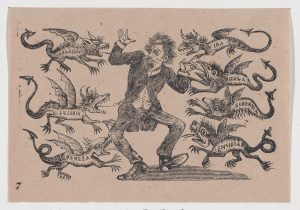 After last week's insidious, I ran across its near homonym. With school beginning and the need to ramp up student vocabularies increasing with the pile of reading on that way, let's sort these two words out.
Insidious and invidious both have Latin roots and negative connotations, but if the former relates of subterfuge, invidious is more candid: any action or statement likely to spur resentment, offense, or anger.  As with last week's word, our word this week has barely budged in its meaning since the 17th Century. You'll find lots of interesting examples in the OED entry. Most commonly today, we talk about an "invidious comparison," such as this one, from the blog for writers, The Wickeds:
"If you don't write everyday, you can't write a book."
Poppycock. The disempowering message from these morons is, "You can't write a book."
That sort of comparison teams up something awful with something desirable. It's sure to provoke.
I ran across our word in a book that did get written, and written well, The Men Who Lost America, about the British leaders of the Revolutionary War. Here's the usage by author Andrew Jackson O'Shaughnessy.
"In the view of one Cabinet insider, the government was in an invidious position and could not afford to risk alienating the brothers by denying their terms."
Well respected General Howe and his older brother, Admiral Howe, proposed a peace conference to the Americans, something George III vehemently opposed. But the British government decided to both make war and offer an unsatisfactory peace at the same time. The brothers' initiative failed, miserably.
We know the rest.
As the year begins with uncertainty,  be sure that we'll press on here. Send us words and metaphors! E-mail jessid-at-richmond-dot-edu with your nominees. See all of our Metaphors of the Month here and Words of the Week here.
quite timely image of "the suicide of an invidious plutocrat" courtesy of Wikepedia