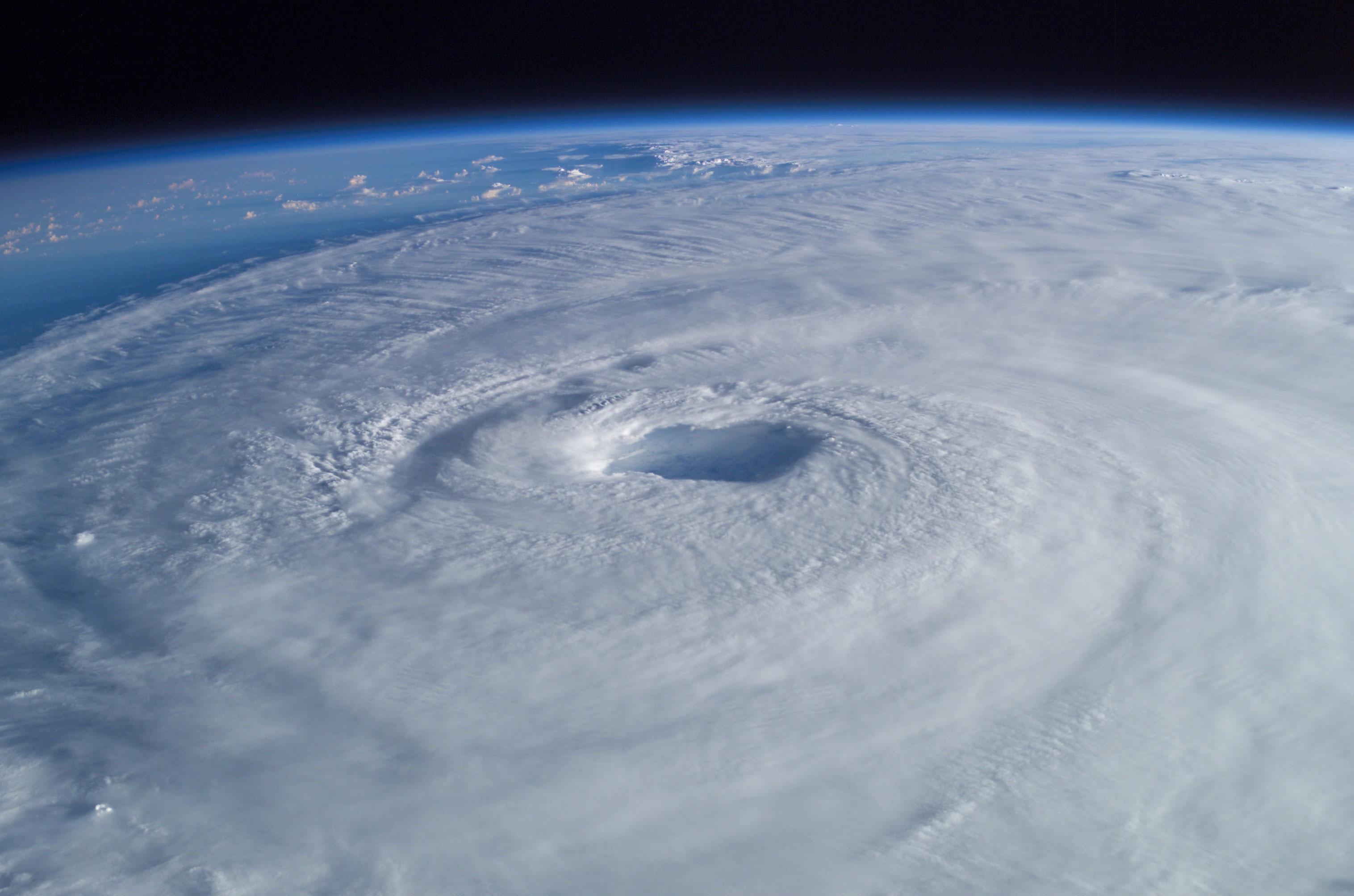 With Tropical Storm Dorian projected (for now) to strike Florida as a Hurricane, it seems appropriate to choose a metaphor apt for Hurricane Season. This one, while not an academic term, certainly has been so popular as to become a cliche, albeit a powerful one.  Sometimes, when the semester is at its most frenzied, we'll have a day or two of relative clam. Welcome to the eye of the storm.
The metaphor does not rate a full entry at the OED, and its appearance is of recent origin. Those in the path of cyclones must have long known about the eerie calm at the center of the tempest, so it surprises me that the earliest recorded usage comes from 1884.  In his novella, Typhoon, Joseph Conrad beautifully captured the experience of a battered steamer, at midnight, entering the eye:
This ring of dense vapours, gyrating madly round the calm of the centre, encompassed the ship like a motionless and unbroken wall of an aspect inconceivably sinister. Within, the sea, as if agitated by an internal commotion, leaped in peaked mounds that jostled each other, slapping heavily against her sides; and a low moaning sound, the infinite plaint of the storm's fury, came from beyond the limits of the menacing calm. Captain MacWhirr remained silent, and Jukes' ready ear caught suddenly the faint, long-drawn roar of some immense wave rushing unseen under that thick blackness, which made the appalling boundary of his vision.
We have a powerful term here that needs no explanation to native speakers of English. I do wonder if in other languages the metaphor shifts? Are there other images that spring to mind, aside from an eye, when other cultures describe the calm at the center of chaos?
Please send us words and metaphors useful in academic writing by e-mailing me (jessid -at- richmond -dot- edu) or leaving a comment below.
See all of our Metaphors of the Month here and Words of the Week here.
How well I recall Hurricane Isabel and my nearly two weeks without electricity. Image of Isabel, from the International Space Station and via Wikipedia, courtesy of Mike Trenchard, Earth Sciences & Image Analysis Laboratory, NASA Johnson Space Center.