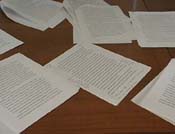 For the first week of classes, I thought to feature a word appropriate to the season. So what is so special about that document, online nowadays, that lists assignments, schedule, and policies for a class?
Not much, really. In sum, it is but a concise summary of a subject to be covered, a compendium, a list. The OED Online dates modern usage to the 17th Century. In Antiquity the term may or may not have had the same meaning, so it may not qualify as a loan-word from Latin.
I came to like the term; it mightily confused me as a first-generation, first-year student at The University of Virginia in 1979. It was to be the first of many bizarre  terms that I encountered. Many of the new-to-me terms were Latinate, as alien as Hittite despite my four years in a Catholic high school where the priests could speak Latin. Consider that we "proctor" an exam, end four years of undergraduate work with a "commencement," earn Latin-phrased honors such as cum laude, and labor in the Grove of Akademos, the source of the word "Academy."
So as you peruse (or write! the hour is late!) your syllabi for the upcoming academic term, be on the lookout for other traces of academia's Classical heritage.
The Word of the Week will appear every 2nd, 3rd, and 4th Monday of the academic year, with a new entry, Metaphor of the Month, for our first Mondays.
Please nominate a word (or metaphor!) useful in academic writing by e-mailing me (jessid -at- richmond -dot- edu) or leaving a comment below.
See all of our Words of the Week here.