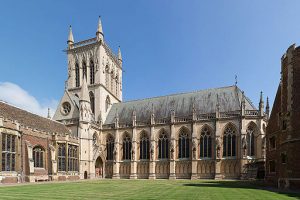 This week we begin a new monthly feature. And the timing, in our second week of classes, is spot-on appropriate.
For new students who may have forgotten the concept, a metaphor is a type of figurative speech calling a person or thing something it is not, such as "John is a real skunk!" or the famous parables in the Bible, with the Kingdom of Heaven suddenly becoming a mustard seed.
Now on to our first academic metaphor.
We think, commonly, of "The Ivory Tower" being the haunt of cloistered academics.  Where on earth did that come from? French, actually. The OED Online traces the origin of our term to the second quarter of the 19th Century, from tour d'ivoire, as a place of sanctuary from the world and its troubles.  The image is older, going back to (thank you, Wikipedia) to The Song of Solomon 7:4:
"Thy neck is as a tower of ivory; thine eyes like the fishpools in Heshbon, by the gate of Bathrabbim: thy nose is as the tower of Lebanon which looketh toward Damascus."
The similes and metaphors just pile up here, rather odd tools of seduction, and in this book of the Bible they get racy, fast. Have a look yourself.
In any case, I find it fascinating that none of the examples provided by the Oxford English Dictionary, as well as my antique version of Webster's New Collegiate, show the drift in meaning to academia, especially toward the negative sense that political pundits often use to attack us. Only The American Heritage Dictionary sheds a little light (another metaphor!) on our phrase, noting a place of "intellectual considerations rather than practical everyday life."
I have many colleagues who would argue that our business in the Ivory Tower is very much about everyday life, especially how to live it in a considered and enlightened way, but this post is no more an op-ed than it is a look at the Bible's salacious metaphors. Yet that final definition gets us to the pejorative sense of the term. Other ages had Lotus-Lands. We moderns are only left with an ivory tower.
Please nominate a word or metaphor useful in academic writing by e-mailing me (jessid -at- richmond -dot- edu) or leaving a comment below.
See all of our Words of the Week here.
Photo by DAVID ILIFF. License: CC-BY-SA 3.0 of St. John's College, Cambridge, courtesy of Wikipedia.