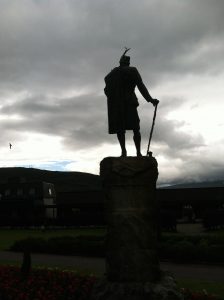 I'm a sucker for a good sunset, and this time of year the gloaming gets resplendent. I heard that word more in the U.K., where summer twilight can be prolonged and magical. It's a artful word, gloaming, and I almost can spot Robert Burns on some heather-covered hillside, journal in hand, writing a few lines of verse:
The hunter lo'es the morning sun;
To rouse the mountain deer, my jo;
At noon the fisher seeks the glen
Adown the burn to steer, my jo:
Gie me the hour o' gloamin' grey,
It maks my heart sae cheery O,
To meet thee on the lea-rig,
My ain kind Dearie O.
Burns reminds us that the gloaming is not necessarily ruddy or wonderful. It can simply be cloudy.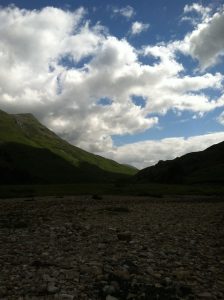 The origin, however, is not Gaelic. Gloaming comes from the Old English glóm,   or twilight. See the OED Online for more on this origin. Our word thus may have crossed from the Continent with Germanic peoples, invading the British Isles after Rome's Empire in the West fell.
I hope my Scottish friends do not come over and run me through with a Claymore.  In their defense, I have seen my best late-day gloamings and sunsets in Scotland, though more than a few right at home rival their intensity, if not duration. Here's one from campus, not far from my office.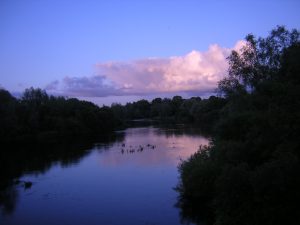 May your Autumn skies be glorious, and your gloaming prolonged.
Please nominate a word or metaphor useful in academic writing by e-mailing me (jessid -at- richmond -dot- edu) or leaving a comment below.
See all of our Words of the Week here.
Images: Fort William and Glen Nevis, near Ben Nevis, Scotland, 2014, by me. Same for the University of Richmond lake view. Verse by Robert Burns, "I'll Meet Thee On the Lea Rig."