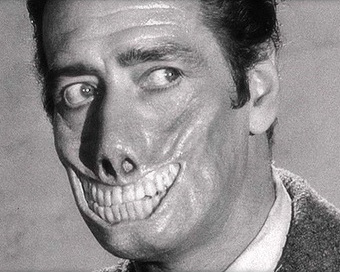 I enjoy a spooky post for Halloween, so this year to follow our 2018 Metaphor The Dark Night of the Soul, I have a word useful all year long.
Odd little boy that I was, I could not wait every month to grab a copy of Famous Monsters of Filmland, a black-and-white magazine covering horror films. One cover's image stayed with me a long time: the image of Mr. Sardonicus, a man who suffers to terrible a scare that his face gets twisted into an eternal, Joker-style grin. There is nothing happy about such a fate.
But is that "smile" of his really "sardonic"? Absolutely. According to the OED Entry, laughter or a smile meets the definition if done in a "bitter, scornful, mocking" way.  That would also describe a great deal of humor in otherwise scary movies.
As one might guess, the term sardonicus provides the original for several words in Romance languages, as well as our English term, with usage first recorded in the 17th Century.
May all your goblins and ghouls bring only treats on October 31, and no sardonic tricks.
Please send us words and metaphors useful in academic writing by e-mailing me (jessid -at- richmond -dot- edu) or leaving a comment below.
See all of our Metaphors of the Month here and Words of the Week here.
image courtesy of Wikipedia.