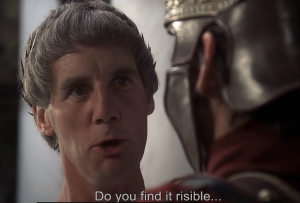 Joe Hoyle, as usual, sends an excellent word from his office in our School of Business. Professor Hoyle picks a term I have read but never explored. Now I plan to use it, because right now we could use anything related to laughter.
My erroneous sense of our word had been that such laughter comes from derision, mockery, or scorn. Bitter laughter, if you will. But I was wrong, so let's look at the OED for guidance.
The word has Latin and French roots, like so many good words we have taken into English. The definitions on offer include no sense of derisiveness, simply a situation that provokes laughter.
Even a cursory Google search shows that risible coexists with words such as "comic," "absurd," and "ridiculous."  Why use "funny" when each word has its own nuances? That variety and flexibility remain glories of English, when well employed. "Risible" sounds more formal, so when one wishes to elevate the diction of a sentence, it outranks "laughable" and gentles the sentiment of something ridiculous.  It's almost genteel, even when Ponitus Pilate, in Monty Python's retelling of the story, uses the word to berate a Roman Centurion about a tragically named friend of Pilate's. It's risible fun from a bunch of over-educated Brits.
Think for a bit about all of the synonyms we have for things that are funny. Then try a few new ones in your vocabulary.
Please send interesting  words and metaphors and send them to me by e-mail (jessid -at- richmond -dot- edu) or leaving a comment below.
See all of our Metaphors of the Month here and Words of the Week here.
image: Scrween Cap fwom life of Bwian.