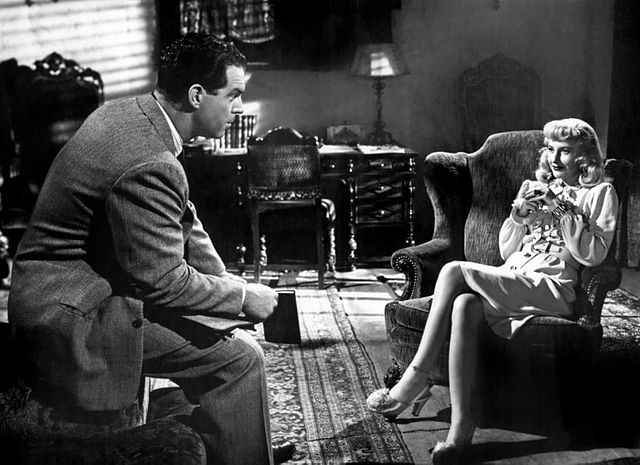 Special thanks to Professor Jack A. Molenkamp, who teaches Business Law classes to students at UR. He finds that this term, and many other legal ones, new to his students. That is not too damning, really; for me I first thought of Billy Wilder's excellent Double Indemnity, a signature work of film noir starring some of the finest talents in Hollywood: Barbara Stanwyck, Fred MacMurray, and Edward G. Robinson. Yes, those greats in a thriller involving…insurance.
Hence, the public domain (I don't need legal problems) photo from that film.
When I took a Communications Law course during my run-up to gradate work in Journalism, I found an entire lexicon of words that seemed familiar but had different meanings; other words were entirely foreign to me. Most youngsters do not think about insurance; hence, the lack of familiarity with "indemnity."
Professor Molenkamp responded to my query for more information about how the word works in his field. He recommended Black's Law Dictionary for a definitive answer, but added:
he LawDictionary.org defines "indemnify" as "[t]o save harmless; to secure against loss or damage; to give security for the reimbursement of a person in case of an anticipated loss falling upon him. Also to make good; to compensate; to make reimbursement to one of a loss already incurred by him."

In my world, the word comes up largely in two contexts:  First, with respect to principal/agency relationships where the principal agrees to indemnify the agent for his or her activities.  Thus, a corporation will generally agree to indemnify corporate officers for their actions, as long as they are not in violation of the law.  Second, with respect to merger and acquisition transactions, where the seller agrees to indemnify the purchaser for a breach of the seller's representations or covenants.

Variations of the word are used as other forms of speech:  thus, indemnity or indemnification, as nouns.  In addition, the one who gives an indemnity (or who agrees to indemnify) is the indemnitor; the recipient, the indemnitee.
The OED looks back as far as the 17th Century for earliest recorded uses, and they describe situations involving financial protection against possible future damages or injury: there we have the modern association with insurance. But the same definition includes more, "to secure against legal responsibility for past or future actions or events." When you sign a waiver for that white-water rafting or at the gun range, the proprietors have used that document in this sense. Of course, they have insurance as well!
No usage in the OED dates later than the end of the 19th Century. I suppose that is a good thing: legal definitions should remain stable for a long time. One footnote: there's an obsolete usage meaning "to hurt or harm."
Please send us words and metaphors useful in academic writing by e-mailing me (jessid -at- richmond -dot- edu) or leaving a comment below.
See all of our Metaphors of the Month here and Words of the Week here.