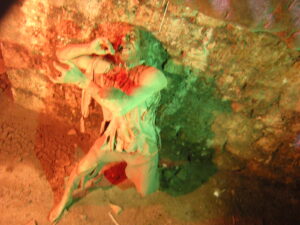 "All those years of Dungeons and Dragons taught me…" begins a hilarious moment of wisdom from the old and often wonderful series The X-Files. Still, what is a dungeon?
The game envisions a dangerous place full of monsters where one can get lost forever. Or in the case of the image above, history teaches of a dreadful below-ground prison where people get put and forgotten. That wretch of a manakin was being gnawed on by a stuffed rat, at Bolton Castle in Yorkshire, when I visited in 2009. The history was horrible but the effect? Monty-Python and Far Side cartoons.
I began to wonder about dungeons this week when I asked our Registrar's office to get me the heck out of a ground-floor classroom with terrible lighting, a loud air-handler that will not stop running, and two tiny windows to natural light that vanish as soon as our overhead-projector screen lowers.
At 9am, such a setting does not bode well for teaching undergrads.  We discussed the term in our new room today, and a few students recalled donjon from French. The origin appears (according to the OED entry) Anglo-Norman and first recorded use in the 1300s. Later senses moved the dungeon from a fortified tower (think of the Tower of London) underground, as at Bolton Castle.
In case your mind dove into the gutter, only in our strange current times has the term acquired a sexual connotation. First use in the OED's reckoning? 1969.
D&D's dungeons? 1974.
There you have it, dungeon-crawlers (a D&D term for a party of adventurers who descend into the inky, horror-filled depths).
Nominate a word students need to learn by e-mailing me (jessid -at- richmond -dot- edu) or leaving a comment below.
See all of our Metaphors of the Month here and Words of the Week here.