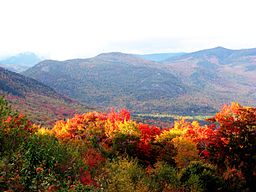 Perhaps, by the time this post runs, the weather will match the season. Yet we do have a lovely word of the week, one often used quite metaphorically.
Solidly in the realm of the humanities, our word can imply middle age, as in "during my autumnal years, I plan to take up fly fishing." We thereby imply someone past her or his prime, then, and the OED notes how in this sense "autumnal" is often negative. Personally, I find the word to be wistful rather than pejorative. Perhaps that's just me and my next-to-favorite season (right after Winter).
I do not often hear "vernal" used in a similar way.  In terms of etymology, The OED Online takes us back to the 15th Century for both "autumn" and our adjective, borrowings from Latin.
Students might use our word and end up sounding pretentious. I suspect it is best left for creative writing or in its literal sense of something pertaining to the Fall season, such as the autumnal equinox or "My old grade school will host its Oktoberfest this weekend, an autumnal ritual ever since my childhood."
My hope is that all of us will experience autumnal weather soon this year and in the decades ahead. Our currently endless summer fills me with dread.
Please nominate a word or metaphor useful in academic writing by e-mailing me (jessid -at- richmond -dot- edu) or leaving a comment below.
See all of our Words of the Week here.
Image of New Hampshire forest courtesy of Wikipedia Commons.