This time of year is a personal favorite, Yule, the season around the Winter Solstice.
Last year I got to Stonehenge just after Solstice, and the delay was worth it: we had smaller crowds and better views of the standing stones. Later we spent a few days at Avebury, just after Christmas, but the Yuletide (often hyphenated as Yule-tide) festivities were still in full swing. Silbury Hill, pictured above, is the largest artificial prehistoric mound in Western Europe. We had it all to ourselves, and I think my photo captures the mood of Yuletide quite well, as does this one from Avebury's henge.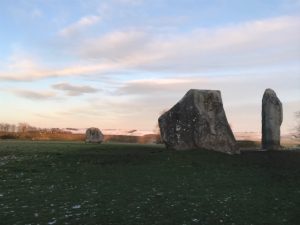 Often this holiday, the day of least light and longest darkness, gets equated to our word, "Yule," as does the Christian holiday of Christmas. Both are true, though the word itself is far older than modern neo-Paganism or Christianity.
The OED Online traces the word "Yule" to Old English geol and gives recorded uses, in Latin texts, back as far at the 8th Century. Later phonetic spellings such as "yoole" appear before things settled in their modern form in the 17th Century, though "yole" appears in one 19th century example.
What about the less common "Yuletide"? Like "Christmastide," it's getting rarer to modern ears than it was in Dickens' era, perhaps because we think of "tide" only in terms of the ocean.  We usually put "time" in place of "tide" nowadays, but that is a good substitute. Here again, the OED entry on "tide" shows a first definition, now obsolete, meaning a season or span of time.
For Yuletide, I have a poem from the grandfather of my former Writing Consultant, Nellie Searle, to share. Whatever holiday is yours this season, you'll find some inspiration in Andrew Glaze's "Christmas." Glaze, according to his daughter Elizabeth, "was a born skeptic his whole life.  We described ourselves as 'agnostic', and our outgoing Christmas cards were never religious in theme."
Skeptics are welcome at my Yule table. A few years ago I helped to organize a few Winter Solstice celebrations for a local Unitarian-Universalist Church, for people of many faiths. As I said then, "A newspaper clipping I still have somewhere notes that on the longest night of the year, ancient peoples made bonfires in sacred places because they feared that the sun would never return. In northern Europe, a Yule log might be decked with greenery and then burned in a ritualistic manner.  A tree would be cut, brought indoors, and adorned with lights to remind everyone that the light will never die. These traditions, and many more, continue into modern times."
That festival and its trappings moved me then and now, to honor the light and hope for its return. Yule is just the holiday for these dark times circadian, political, ecological. We can and will, I hope, do better in the years to come.
Please nominate a word or metaphor useful in academic writing by e-mailing me (jessid -at- richmond -dot- edu) or leaving a comment below. Next up will be "okay," thanks to US President Martin Van Buren and Dr. Bill Ross of UR's Department of Mathematics.
See all of our Metaphors of the Month here and Words of the Week here.
For the week of  December 24th, the blog takes a holiday! See you in two weeks.
Photos by the author.