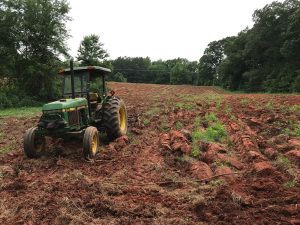 I have spent a lot of time with this word in its literal sense: the second stage of breaking soil after plowing it. Farmers turn to the disc harrow to break the large furrows created by a plow into smaller clods, closer to accepting seed.
What harrowing a field, for me at least, is a relaxing activity, in the term's metaphorical sense it's not so pleasant. And we live in harrowing times: a global pandemic, a contested election, an angry population.
The OED gives this sense of the term only brief mention. I'm surprised that the latest instance of the term in the sense of "That harrows or lacerates the feelings; acutely distressing or painful" dates from 1895. That's precisely the power of this term: as the tractor's harrow lacerates already torn soil, crushing and breaking it, so can the times harrow us.
We occasionally, in religious texts, run into this idea, from a different definition at the OED:
"The harrowing of hell was the triumphant expedition of Christ after his crucifixion, when he brought away the souls of the righteous who had..been held captive in hell since the beginning of the world."
Without getting spiritual here, it's a strange, rather antique sense of the term. I suppose it implies a sifting, just as physical harrowing removes roots and turns up what we want: the good soil, while burying weeds.
Send words and metaphors to jessid -at- richmond -dot- edu. See all of our Metaphors of the Month here and Words of the Week here.
 John Deere 2155 in the midst of harrowing a plowed field. Photo and tillage by author.