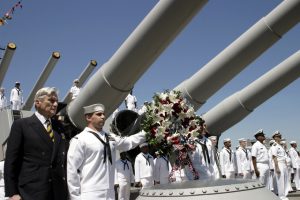 I'd planned this one when mentioning the late Senator John Warner recently. His voice often got called stentorian, and I'd figured it might be a metaphor. And so says The OED, noting it means to be as loud as Stentor, "The name of a Greek warrior in the Trojan war, 'whose voice was as powerful as fifty voices of other men.' "
Our word has a positive connotation that the definition does not denote. Warner's voice was never annoyingly loud. He spoke clearly and his voice carried across a room (while carrying the day in many debates) or the deck of a battleship. He sounded senatorial in a way that added dignity we don't often associate with national politicians any longer.
Professor Joe Hoyle nominated this word, long a favorite of mine. I would like to possess a stentorian voice. I'd also like the word to enjoy more use. It scores only three of eight on The OED's usage frequency. That seems nearly as big a pity as the loss of urbane, civil, and stentorian voices in our politics.
If you have words or metaphors to share, contact me by e-mail (jessid -at- richmond -dot- edu) or leaving a comment below.
See all of our Metaphors of the Month here and Words of the Week here.
Creative-Commons image courtesy of US National Archives. You have to be stentorian to be heard on the deck of the USS Wisconsin!