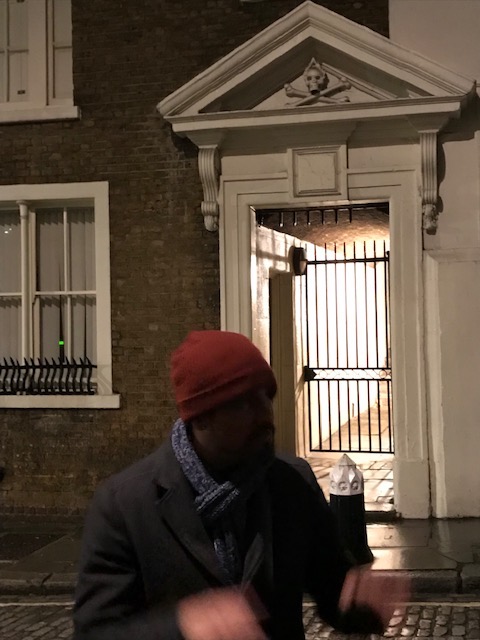 Special thanks to Robyn Bradshaw, with UR's Catering Department, for our word this week. When I hear it, I think of the Bubonic Plague cemeteries that still can be found in London. I immediately grabbed a photo I shot outside of one such former burial ground, taken during a 2017 London Walk in The City, the heart of London's financial district. Where bankers now make deals, victims of the Plague once got mass burials. They were long ago reburied elsewhere, but the skull and crossbones still mark the entrance, today. Our guide, pictured, gave us a chilling sense of the terrible pandemic.
The Plague was know as "the pest," short for pestilence, though today we think of mosquitoes or annoying people when we hear "pest." The OED gives the Plague association for our word as its second definition.  More commonly, pestiferous means morally corrupt, even annoying. And so the horrors of the Black Death gave way to something that is a mere nuisance. Oh, bother!
If ever a word underwent a change into banality, it's pestiferous. One 2003 example, "Something I'm afraid to even Google, for fear of the pestiferous spam it might unleash," shows how far today (one hopes) we stand from the nightmares of the 14th Century. When you visit London (and I hope you do) take time to read about the history and myths surrounded the Underground and the "Plague Pits" of the Middle Ages.
May your summers be pest-free, though I will pester you for new words and metaphors.  Please nominate one useful in academic writing by e-mailing me (jessid -at- richmond -dot- edu) or leaving a comment below.
See all of our Metaphors of the Month here and Words of the Week here.
Image by the author. When in London, especially in the off-season, be sure to take one of the Original London Walks! A ghost walk with Shaughan is not to be forgotten.