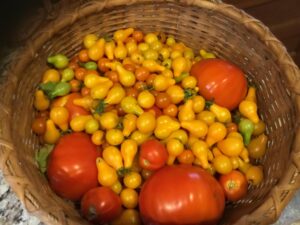 Now that the school year has ended, with diplomas and awards given, I suppose we could say our efforts have all come to fruition. Or should it be "their fruition"? I believe both are correct.  The word works well in formal prose and, as a Latinate term, elevates the diction of a written sentence.
And does the word have anything to do with fruit ripening? That would be my first guess.
Officially, no. Check the OED's entry on our word and consider how we use "fruit" metaphorically, as in "the fruit of your labors."  As the OED editors tell us, fruition gets erroneously associated with produce, but really the word implies to enjoy, coming from the possession (or accomplishment) of something.
May I push back against those sages from Oxford? If something "comes to fruition" and has been used in examples the OED cites, such as "The greenish nuts, ripened as always from the flowers of the previous year and now in their full fruition," hasn't the meaning of the word changed? We could say "full ripeness," yet I remain a descriptivist about language not a prescriptivist. Language morphs over time, and no pedant can stop that process. Methinks that OED editors protest too much, when we look at etymology.
Both "fruit" and "fruition" share the same Latin root, fruī, for "to enjoy." I enjoy ripe oranges all summer and starting in August, fresh figs from our fig trees (the only fruit I can bring to fruition, unless one counts tomatoes).
This blog never comes to fruition. It produces fruit–savory or bitter–all summer, like an indeterminate tomato vine. So send me the fruit of your ideas, words or metaphors, by e-mailing me (jessid -at- richmond -dot- edu) or leaving a comment below.
See all of our Metaphors of the Month here and Words of the Week here.
2017 Tomato-Basket photo by the author