A few days ago, I watched a moving and well made BBC video about how geologist James Hutton recognized what we now call Deep Time. That metaphor will appear in a future post.
Meanwhile, consider what the geologist saw when he looked at Siccar Point in eastern Scotland.  As the Wikipedia entry puts it, an unconformity means "places where the junction between two types of rock formations can be seen."  I myself saw The Great Unconformity a little less than a year ago, when I spent three days at the South Rim of The Grand Canyon.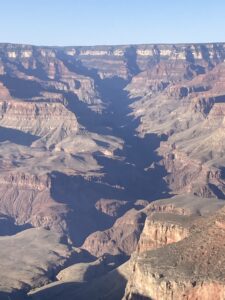 Keep in mind that an unconformity implies missing material, too. Where rocks meet, millions of years of the earth's history may have vanished without leaving a trace.
This realization puts our four-score (or so) years into a perspective that can be humbling, exhilarating, or terrifying to those who view an unconformity. More than a few viewers, faced with this dizzying truth, deny it.
No photos of such formations can do justice to the real thing. What I first saw on a hazy Northern Arizona afternoon sent me reeling. Such a vista, though smaller, sent Hutton and his companions into some colorful prose. John Playfair wrote "The mind seemed to grow giddy by looking so far into the abyss of time." Hutton noted how time suddenly seemed to have "no vestige of a beginning, no prospect of an end."
Hutton and his friends were not the first to ponder Deep Time. Consider Emperor and philosopher Marcus Aurelius, who wrote in his Meditations "What a tiny part of the boundless abyss of time has been allotted to each of us – and this is soon vanished in eternity."
What about outside geology? As late as 1982, a writer referred to "unconformities" in Shakespeare's history plays. As to what that statement implies about errors, or missing material, I don't know. You can see other examples at The OED.
I rather cherish nonconformists, so I like this word for more than rocks.  It merits wider use and even wider practice.
Nominate a word students need to learn by e-mailing me (jessid -at- richmond -dot- edu) or leaving a comment below.
See all of our Metaphors of the Month here and Words of the Week here.
Creative-Commons image by Anne Burgess of "Hutton's Section." Grand Canyon image by me.