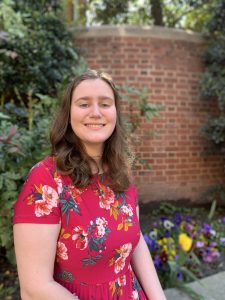 One of the author's most difficult decisions every April is to announce which of our Writing Consultants has been selected for our award.
2021 was not, however, a difficult year, as our recipient Annalise Mangone received nominations twice last year, from both a faculty member and a writer she assisted. This year, she received two more, from different faculty and student recommenders.
Annalise trained with me well before the pandemic and she was an anchor in my training class and frequently demonstrated her intellectual curiosity beyond the job of Writing Consultant. She participated in events sponsored by the Center, including fiction readings off-campus by writers of science fiction and fantasy who came to campus for my class, Reading SF & Fantasy.  During the early part of the pandemic, she often dropped in for my "wine and whine" evening Zoom office hours, an event aimed at bringing some coherence back to a scattered workforce anxious about ongoing events on and off-campus.
When working with students at the Center or in classes, she proved her mettle as an enthusiastic helper. I asked her to describe her time among us, and she noted, "In terms of what I recall most about UR, it has always been how kind and encouraging the faculty have been. In all of my classes, my faculty have been truly devoted to making sure that we are learning in interesting and effective ways, and especially this year have been supportive of all of my many research interests and endeavours."
That British spelling works well and it stands as Annalise wrote it. She will be completing an MSc program at Oxford in Anthropology next year. I am both jealous and disappointed in one regard: when I finally walk the upper reaches of the Thames Path in a few years, ending it at Oxford, Annalise won't be there to give us a tour.
In terms of her work with writers, she notes that "I always say that I love being a class Writing Consultant because it gives me the chance to 'audit' courses that I would not otherwise have the opportunity to experience, and I think that curiosity has guided my course of study in anthropology and leadership. I love exploring the many different theoretical frameworks of the field as well as carrying out my own research into topics like stress management in extracurricular clubs or chaplaincy and spirituality in Richmond area hospitals."
That sort of passion for learning makes Annalise stand out even in a year with many other strong candidates for the award. We wish her every success in the wide (and finally, opening!) world beyond our campus gates.