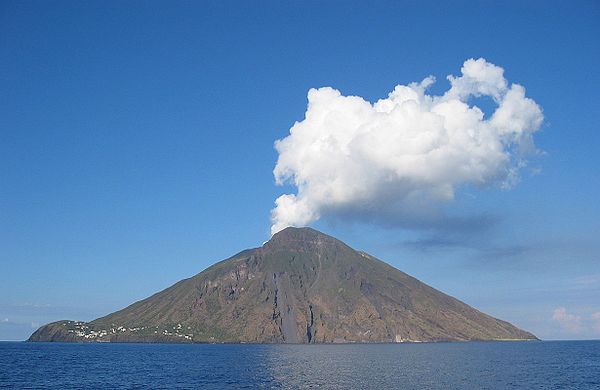 As a child, I loved several things in the way only an OCD person can: volcanoes and maps were two of them. When these obsessions coincided, as they did on the paper place-mats of many 1960s pizza parlors?
Paradise. Studying the lumps and bumps, some smoking dramatically, on the simplified map of Italy I'd move past Etna and Vesuvius to fixate on one spot: The Island of Stromboli.
The word rolls off the tongue, doesn't it? It is a word hard to say without grinning, too. Likewise our adjectival form, one I encountered when reading about volcanoes recently. As this site notes, Strombolian eruptions are "short-lived, explosive outbursts," that remind me of how a few public figures misbehave in person and online, when they don't get their ways.  In the world of indifferent rock and sky that will outlast all our vanities, Strombolian eruptions toss bombs into the air "that travel in parabolic ballistic paths" before building up a cinder cone. To a volcano-obsessed child, thinking about this was the next best thing to eating a pizza.
My own dad was rather Strombolian (7/14/20 update: This Bastille Day would mark his 100th birthday). I think this aspect of his temper kept him from major, stratosphere-scraping, climate-altering blasts. It was he, in fact, who got me fascinated with all things Stromboli. A clever and imaginative man despite his lack of formal education, he invented a myth about a pot-bellied giant named Stromboli, who lived on that little speck I would so faithfully study on the place-mat. I imagined Stromboli wearing an animal skin and sporting a huge, waxed handlebar mustache, right out of pizza-parlor iconography. There was no Wikipedia or Internet then, and the "S" volume of our World Book Encyclopedia was missing in action. So Stromboli grew in my mind like, well, a swelling volcano.
This was long before a sandwich called The Stromboli could be ordered in my part of Virginia. The rolled-up delight apparently began in the 50s, at an Essington, PA restaurant, and the sandwich has a fascinating back story: it's named for a film, not a volcano. I got a real kick out seeing Strombolis erupt onto Richmond menus in the 1990s, and I told my father. He loved the idea and once again said, his voice booming, "I AM STROMBOLI!"
We should use the adjective Strombolian, among others, as much as we can. It is certainly better than the mindless "super" I hear constantly. But I'll avoid yet another short-lived outburst on that subject. I'll  soothe my temper by looking at my bookshelf, where I've not only Simon Winchester's book Krakatoa but also some fragments of Mount Saint Helens and a small lava bomb ejected during a Strombolian event in Iceland. That one I picked up in person, off a glacier littered with lava bombs.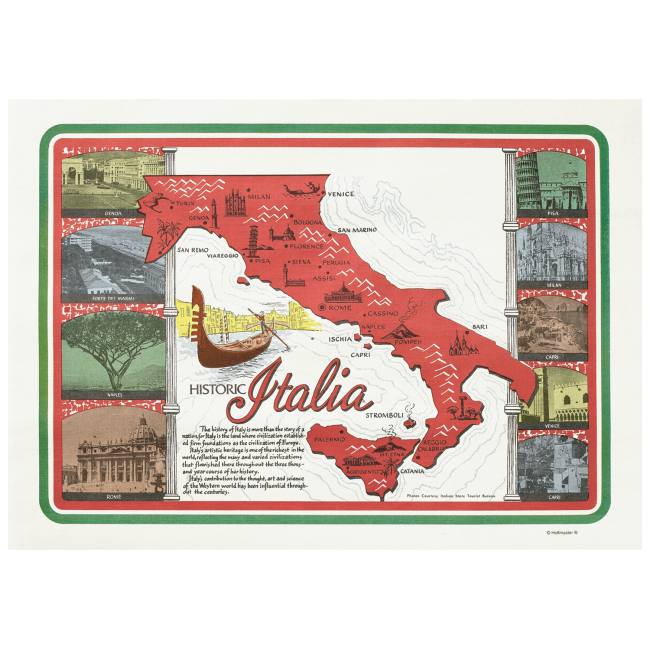 Now I am rather hungry for a take-out Stromboli.
Image of Stromboli courtesy of Wikipedia. Placemat image blatantly stolen.