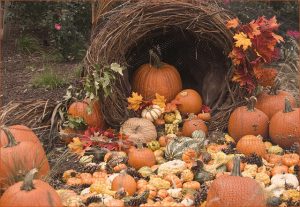 I don't hear this wonderful word much anymore, so I thought to trot it out for the week after Thanksgiving, when we enjoy a feast of plenty. What of the word that means "horn of plenty"? It may appear in seasonal imagery, but like last week's word, it has faded from popular usage. The OED Online gives it only four of eight for frequency of usage.
As with so many words here, the history of use can only be traced to the early Gutenberg years, or 16th Century. I imagine our term enjoyed popularity before, as the concept comes from pagan Antiquity, noted in the OED entry as "the horn of the goat Amalthea by which the infant Zeus was suckled."
We might see the image of a horn of plenty advertising specials for Thanksgiving at supermarkets, but the lovely Latinate term? That seems rare today.
Enjoy your holiday feasts and do not overdo it. There are ancient stories about that, as well.
Please nominate a word or metaphor useful in academic writing by e-mailing me (jessid -at- richmond -dot- edu) or leaving a comment below.
See all of our Metaphors of the Month here and Words of the Week here.
Image: "Fall Cornucopia" by Ron Cogswell at Flickr.