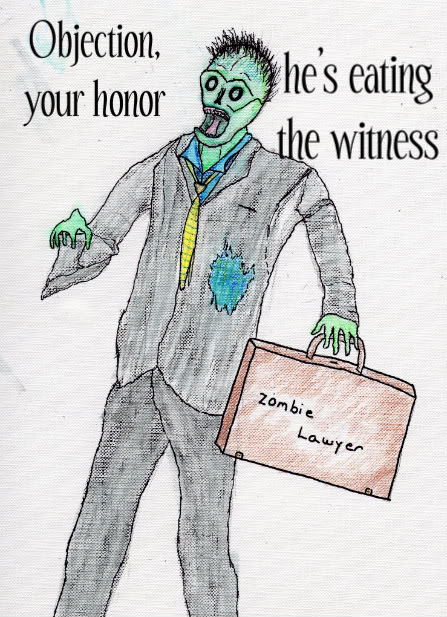 image credit: Sabrina of Introverted Wife
Usually, I simply delete "scam" e-mails without a second thought. This one, however, got me reading. I wonder if Mr. DeSilva's legal fee would be "your brain!"
Ah, what magic a simple apostrophe + s can work on a piece of writing.  It can even bring back the dead.
Attn: Dear
My name is Barrister Martinez De Silva , My aim of writing to you is to seek your consent and present your humble self as trustee of my deceased client estate and the bank had issued me several notifications on my capacity as the deceased Attorney to provide a legal representative thereof.
Moreover, the fact that there is no surviving relative or trustee to inherit the estate of my deceased client  which may spur the bank to classify the estate as unserviceable and legally uncollectible after statutory time limit imposed by the law.
If you are interested in my project please contact me immediately so that I can provide you with more details and procedures.
Regards
Barrister Martinez De Silva.
Postscript: The comments are flooding in to this site. All of them are spam linked to products (often pornographic or financial). The best so far, however, is quite innocent in its surrealism:
"I found your article, Richmond Writing » Blog Archive » blather and beyond, is one of the most interesting articles about face cream."
Keep that spam coming! We get great laughs from you spammers!