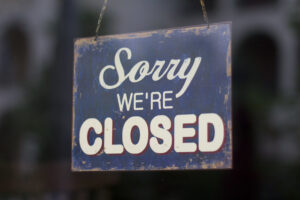 I try to sneak in words from the world of business here, and today's metaphor comes just in time, as two banks associated with the Tech Sector have collapsed, or come so close that their assets got seized by the Federal Government.
Today, on my way in to work, I heard the term "moral hazard" associated with banking. I'd more likely consider it a term for a lost weekend in Las Vegas or New Orleans.
Investopedia provides a succinct definition for our metaphor that maps well onto what has happened recently, namely the "risk that a party has not entered into a contract in good faith or has provided misleading information about its assets, liabilities, or credit capacity. In addition, moral hazard also may mean a party has an incentive to take unusual risks in a desperate attempt to earn a profit before the contract settles."
The entry continues to discuss the lack of consequences faced by the party who breaks faith and, let's be honest, betrays the others involved. In the cases of our banks, they appear to have either taken on risky investments or engaged in other practices that put depositors' money at risk.
It's reprehensible to me, but then my financial advisor ranks me as a moderately conservative investor. I try to keep risks low, at least long-term ones.
So to me, playing with others' money is immoral. The OED provides an 1875 date of first year, and it emphasizes an outcome rather than initial behavior. The entry cites the insurance industry, where "the effect of insurance on the likelihood of the insured event occurring; the lack of incentive to avoid risk," which reminds me of the FDIC's coverage, in theory, of only the first $250,000 in an account. The entry cites a recent example of usage, "Ted Galen Carpenter of the Cato Institute, a free market think tank, argues that a big financial bail-out would risk creating perverse economic incentives or moral hazard."
Will unlimited bail-outs of wealthy investors' deposits create incentives for more risk-taking by new banks? Perhaps.
I'm not Cato-Institute material. I'd prefer we regulate banks tightly and punish more bankers with felony time, not punish the depositors (however wealthy).  To me, these courses of action guarantee a moral outcome.  Only one banker was jailed after the 2008 financial crisis. Fining banks did not stop what we are seeing today.
Nominate a word students need to learn by e-mailing me (jessid -at- richmond -dot- edu) or leaving a comment below.
See all of our Metaphors of the Month here and Words of the Week here.
Image courtesy of Nick Papakyriazis at Flickr.