This has been around for a couple of months, but I just discovered it. An article in the New England Journal of Medicine notes a correlation between per capita chocolate consumption and per capita Nobel prizes in various countries: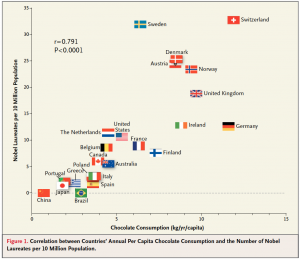 The article's clearly meant to be playful, not serious — something I didn't now NEJM went in for.
This result came to my attention via a report on the BBC program (or rather programme) More or Less, which includes the following:
Eric Cornell, who won the Nobel Prize in Physics in 2001, told Reuters: "I attribute essentially all my success to the very large amount of chocolate that I consume. Personally I feel that milk chocolate makes you stupid… dark chocolate is the way to go. It's one thing if you want a medicine or chemistry Nobel Prize but if you want a physics Nobel Prize it pretty much has got to be dark chocolate."

But when More or Less contacted him to elaborate on this comment, he changed his tune.

"I deeply regret the rash remarks I made to the media. We scientists should strive to maintain objective neutrality and refrain from declaring our affiliation either with milk chocolate or with dark chocolate," he said.

"Now I ask that the media kindly respect my family's privacy in this difficult time."
The program goes on to talk about the actual lesson here, which is our old friend Correlation Is Not Causation. This takes me back to the glorious moment when I first discovered the existence of xkcd:
In the case of the chocolate-Nobel connection, the correlation is highly statistically significant — that is, it's overwhelmingly unlikely to get such a correlation by chance. That could be explained if chocolate consumption caused Nobel prizes (or vice versa), but it could also be explained if one or more other factors cause increases in both. More or Less explains this pretty well, but oddly doesn't mention what seems to me to be the most obvious such factor.
Chocolate, despite what you may hear in some quarters, is not a biological necessity but rather a luxury. So you'd expect chocolate consumption to be positively correlated with wealth. And wealthy countries have resources to spend on science, so you'd definitely expect Nobel prize rates to be positively correlated with wealth. So the link between Nobel prizes and chocolate may simply be an artifact of the link between each of these and wealth. I'd bet that that's all that's going on here.