There's a very confusing graphic in today's New York Times:

Take the last column for instance.  It seems to say that the approval rating among blacks is 57%, and the difference between democrats and blacks is 77%.  By using the sophisticated mathematical identity
(democrats – blacks) + blacks = democrats,
I find that 134% of democrats approve of stem cell research.
Is just an editing error?  Should the label "democrats minus blacks"  just read "democrats"?  That's the only way I can make sense of it.
As long as I'm here, I'll whine a bit more about the Times's choice of graphics.  The Times magazine usually runs a small chart to illustrate a point related to the first short article in the magazine.  It's clear that the editor has decided that making the graph interesting-looking is more important than making it convey information.  Here's a particularly annoying example: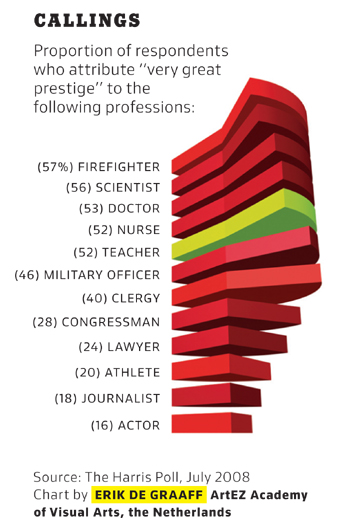 If you wanted to design a way to hide the information in a graphic, you couldn't do much better than this.  The whole point of the pie slices is to allow a comparison of the areas, and they're drawn in a perspective that almost perfectly hides the areas from view.  Where's Edward Tufte when you need him?