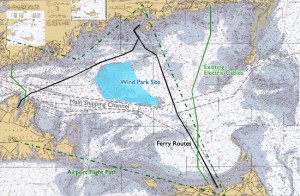 The Cape Wind project is a plan to construct a wind park about five miles off the coast of Cape Cod, Massachusetts. The park would be located in a region, Horseshoe Shoal, with strong, consistent winds, and far enough away from shipping and commercial boat traffic. The 130 turbines would be nearly silent from close distance, not audible at all from land, would not affect telecommunications and will include safety lights. It would produce an enough electricity to satisfy about 75 percent of the energy needs of Cape Cod, Martha's Vineyard and Nantucket. Supporters of the project claim that the project will help produce cleaner air and lower greenhouse gas emissions, help make the country more energy independent, lower energy costs, and create thousands of jobs (both long- and short-term).
Most opponents, while supporting sustainable energy in theory, claim that Cape Wind would simply be located in the wrong location. Critics have stated the the project could diminish real estate costs, harm birds, destroy the fishing industry that relies on Nantucket Sound and ruin the aesthetic appeal of an otherwise untarnished horizon over the beaches of Cape Cod.
Opponents have also stated the leaders of the project are more concerned with ecotourism than with producing sustainable energy. Leaders of the project seem to be of the same mindset as Stephen Mather, the first Director of the National Park Service, who was concerned with bringing people to national parks, not merely with conservation. The project is still in the process of being approved, but it will take leadership that can unite the interests of all invested parties in order for it to succeed.
Here are computer simulations of how the wind farm would appear from the coast. Do you support or oppose Cape Wind? How can all interests be reconciled so that the project can begin?