The website, earthsky.com, is a great website to stay up-to date with science related content and articles. Based in Austin, Texas, the company began producing its content in 1991, and millions of people follow them today. Their promise is "to bring the ideas, strategies, and research results of scientists to people around the world, with the goal of illuminating pathways to a sustainable future."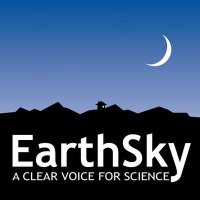 This website is a fast and easy way to get current news stories about what is going on. If you go to earthsky.org/earth, the blog focuses on earth-related articles, weather, etc. You could follow this website and become very knowledgable in the area.
For example, recent blogs include titles like "A look back at the Weather of November 2011", "Declining oxygen levels might threaten ocean health", Pine island Glacier has cracked and will spawn giant iceberg", and "Severe storms target southeastern US". As you can see, these articles relate directly towards physically geography and contain many of the things e have studied throughout the semester. By spending a few minutes each day and reading this blog, you will remain up-to-date with all of science news and happenings. Since we will no longer be hearing the "in the news" stories, this website can provide us with the information we seek. Stay involved easier by following @earthskyscience on twitter or Earthsky on facebook.
Check out the website and comment on some of your favorite articles. You can scroll around to lots of different areas, they all are very interesting. If you go to the FAQ section, it provides you with blogs about answered questions from science. Some blogs include things like "why do tree leaves turn red in fall?" and "does the sun rise due east and set due west in at the equinox?"
There is so much recent information on this website and I highly recommend it to anyone wishing to stay up-to date with what's scientifically occurring around the world. Comment and Win an IPAD!!!!!!!!
** Restrictions may apply. No members of the ENVR 250 class can win the IPAD. In fact, nobody will win anything, except hopefully me when I get the most comments. Hopefully none of you are reading this part, but I had to put it in for legal issues**