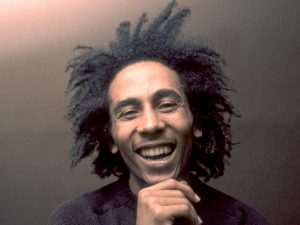 By Corinne Devaney
Celebrities are most looked up to as heroes because of their talent, but for Robert Nesta Marley, being one of the first music artists from a third world country to achieve international stardom was the least of his worries.
While other singers may worry about hitting the top charts, Marley introduced the world to the concept of Reggae and Rastafarianism from his own culture while fighting to free other countries that have lost their values due to British colonialism.
Marley was brought up in a crime ridden neighborhood of St. Anne, Jamaica from a Black mother and white father, who had abandoned him when he was young. His heroic transformation began when he was given the help of piano lessons at age ten and began following the Rastafarian religion, which includes elements of Christianity, Pan-Africanism, and anti-imperialism. These spiritual teachings gave him a sense of sociocentricity for his African heritage and Jamaica, which had been fighting for its independence his entire childhood.
Singing about love, peace, and Jamaican social justice, Marley became the "preacher of positivity" with powerful lyrics like, "One love, one heart . . . Let's get together and feel all right." When his popularity grew and he knew people were listening, he additionally made it his priority to fight for the rights of other colonized countries in Africa.
By extracting his lyrics from the speeches of political freedom fighters in Zimbabwe, South Africa, and Ethiopia, he brought African civil rights in the world's center of attention. Marley's message is revolutionary and motivational, but executed with an amiableness that I'd compare to Mahatma Gandhi.
By staying true to his spirituality, he developed self-awareness about the power of money and its ability to alter the freedom of his mind. Acting upon his thoughts, he dedicated the majority of his time and money to giving back to the country that raised him. Marley organized Jamaican community projects, investing in the schooling systems, and paying to support housing and food to over 6,000 people.
He strived to make his followers mindful of the dangers of fame in his lyrics,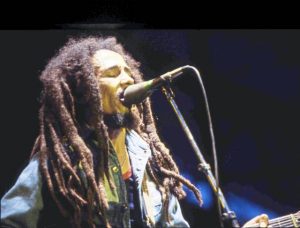 "Don't gain the world and lose your soul, wisdom is better than silver or gold."
Even having acquired great power and influence in his life, he was a consistently altruistic man that valued his spirituality and love over material possessions. Marley's biggest setback of his later life was being shot in the breastbone and biceps after an assassination attempt in his hometown. Less than two weeks later he performed in the "Smile Jamaica" concert just a few towns over from where the attack on him had occurred.
The courageous act shows his unstoppable compassion for his country. The near-death experience actually gave him less fear in the face of death and brought him closer to his religion. Looking through his impactful lyrics, I came across a connection between his urge to perform his music and the shooting in one of my favorite songs, "Trenchtown Rock".
"One good thing about music, when it hits you, you feel no pain." Unlike the pain of the bullet, music was a strong and peaceful influence over Marley that he believed he had to give to influence others. In fact, he loved giving his music to people so much that he refused medical help for his wounds and his condition worsened when he was diagnosed with melanoma on his world tour visiting the US. He believed the Rastafarian religion was the way for God to heal him and didn't fear the risk of dying due to his unwavering faith.
When he was advised to have his toe amputated to stop the spread of the disease, he refused because in his religion it is considered a sin to remove part of one's body, also called the "temple." Although his life was short, ending at 36, he sure made it worth it. Growing up being the underdog of his small society, his humbling words have stretched across the globe.
I would consider Marley to be a martyr because he died creating music for others and refused to care for his own well-being. His inspiring acts of selflessness and resilience through every milestone of his life makes him my personal hero.
– – – – – – – – – – – – – – – – – – – – –
Corinne Devaney is an  undergraduate student at the University of Richmond. She wrote this essay as part of her course requirement while enrolled in Dr. Scott Allison's Heroes & Villains class.