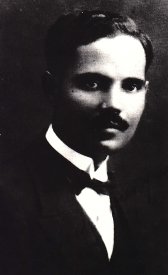 By Miguel Rosario, Caitlin Selinger, and Kylie Steadman
Pedro Albizu Campos was the consummate hero. In 1921 he became the first Puerto Rican to graduate from Harvard Law School while mastering many different languages — English, Spanish, French, German, Portuguese, Italian, Latin, and Greek. After earning his Harvard law degree, he returned to Puerto Rico and opened a one-man law office where he accepted food, water, and clothing as payment for his legal services from people who could not afford a lawyer.
Pedro Albizu Campos was a man who was more concerned with the progress of the Puerto Rican people than with his own personal gain. As president of the Puerto Rican Nationalist Party (PNP), he was determined to lead Puerto Rico in its political battle against the United States for the island's independence. It was during his time as president of the PNP that Puerto Rico would rally the most support it had ever seen towards its fight for political autonomy.
As befitting a hero, Albizu Campos was able to overcome considerable adversity. During his time in the United States, like many other people of color, he had to overcome blatant racism.
After World War I broke out, Campos volunteered for the U.S. military and was commissioned Second Lieutenant in the army reserves. Upon completing his training Campos was assigned to the 375th Regiment, the unit reserved strictly for blacks—an act that was in accordance with the US military policies of the time due to racial segregation. Pedro Albizu Campos would eventually be honorably discharged in 1919 with the rank of First Lieutenant.
Campos graduated from Harvard Law School with the highest grade-point average in his entire law class, earning him the right to give the valedictorian speech at his graduation ceremony. Many people at Harvard did not appreciate having a mulatto Puerto Rican as valedictorian, so one of his professors delayed two of his final exams, thus keeping Campos from graduating on time. He would eventually receive his degree a year later after taking both exams and passing them while in Puerto Rico.
The conflicts that Pedro Albizu Campos experienced with the U.S. were his motivation for leading the PNP in its fight for Puerto Rico's independence. During his time as president, members of the PNP met U.S. repression with armed resistance. In 1950 Campos was arrested as a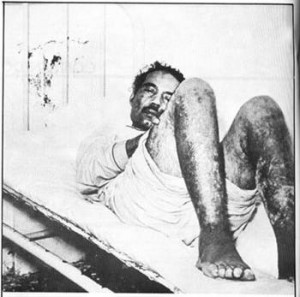 political prisoner and was subjected to human radiation experiments leading to his death in 1965. Ironically enough this abuse occurred decades after Campos accused Dr. Cornelius Rhoads (a leading cancer specialists with the Rockefeller Institute) of injecting live cancer cells into Puerto Ricans to see if the cancer could spread. The accusations came from a manuscript Rhoads had written which Campos had published after getting his hands on it.
It was not until 1994 that the U.S. Department of Energy admitted to conducting these human radiation experiments on Campos and other individuals. Campos thus became the focal point of tension between the U.S. and Puerto Rico, putting his life on the line in the process. The lasting legacy of Pedro Albizu Campos and his fight for his people's freedom has been compared to that of Patrick Henry, Nat Turner, Chief Crazy Horse, Frederick Douglass, and Nelson Mandela. Albizu's political and military actions forever transformed Puerto Rico, its people, and its culture.
– – – – – – – – –
Miguel Rosario, Caitlin Selinger, and Kylie Steadman are undergraduate students at the University of Richmond.  They are enrolled in Scott Allison's Social Psychology course and composed this essay as part of their course requirement