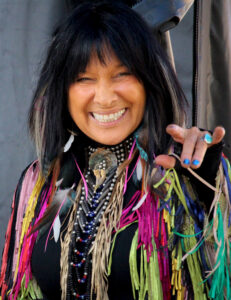 By Jesse Locke
Beverly "Buffy" Sainte-Marie is a Cree musician, visual artist, educator, and social activist. Beginning as a folk singer in the early 1960s with the politically-charged lyrics of songs such as her anti-war anthem "Universal Soldier," Sainte-Marie released the groundbreaking electronic album Illuminations in 1969, and has continued to push creative boundaries throughout a career spanning seven decades. Her numerous accolades include winning the Polaris Music Prize for her 2015 album Power In The Blood, and becoming the first Indigenous person to win an Academy Award for her song "Up Where We Belong" from the 1982 film An Officer And A Gentleman.
Sainte-Marie was born on the Piapot First Nation reserve in the Qu'Apellle Valley of Saskatchewan, Canada. Her exact birth date is not recorded, but it is believed to be February 20th, 1941. At the age of two or three, Sainte-Marie was taken from her biological parents as part of the Canadian government policy of the 'Sixties Scoop' and adopted by Albert and Winifred Sainte-Marie, an American couple living in Wakefield, Massachusetts. Winifred identified as Mi'kmaq (Zoladz 2012) and encouraged her adopted daughter to reconnect with her own Indigenous ancestry. In 1964, Sainte-Marie returned to the Piapot reserve and was officially adopted by the man and woman believed to be her biological parents, Emile Piapot and Clara Starblanket. At that time, she was given the Cree name Medicine Bird Singing (Warner 2018a).
As a self-taught musician beginning at age three, Sainte-Marie's early influences included international musicians such as French singer Édith Piaf and Spanish flamenco dancer Carmen Amaya (Warner 2018b), helping to establish the sound of her powerfully emotional vibrato singing style. Sainte-Marie studied Oriental Philosophy and Religion with a minor in Teaching at the University of Massachusetts at Amherst, but interrupted her initial plans to work as an educator in India to pursue music full-time. Traveling to New York's Greenwich Village folk music scene in the early 1960s, Sainte-Marie earned critical acclaim for her live performances and signed to Vanguard Records, launching her professional career as a musical artist.
Sainte-Marie has overcome countless challenges throughout her career, including being taken from her biological parents, suffering abuse from family members and romantic partners, and being blacklisted by radio stations under the direction of the U.S. government due to the political nature of her lyrics (Seymour 2018a). In a 1999 interview at Diné College, Sainte-Marie explained, "I found out ten years later, in the 1980s, that Lyndon Johnson had been writing letters on White House stationery praising radio stations for suppressing my music" (Norrell 1999). Despite these obstacles, by maintaining a message of hope in all aspects of her music, education, and activism, Sainte-Marie has persevered with a career that has earned her widespread acclaim. She has lived in Hawaii since the late 1960s.
Sainte-Marie has released 17 albums, beginning with her 1964 debut, It's My Way! The album includes many of her best known songs such as "Universal Soldier," "Cod'ine," and "Now That The Buffalo's Gone." Her songs became known for their factual accuracy, with lyrics such as "he's 5-foot-2 and he's 6-foot-4" from "Universal Soldier" based on the height parameters for soldiers in the Vietnam War.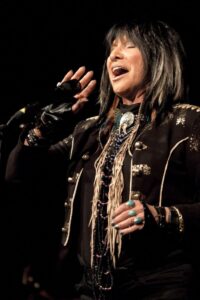 (Seymour 2018b) Alongside setting herself apart from other folk artists of the 1960s with lyrical themes such as drug addiction, incest, and decolonization, the cover photo of It's My Way! features Sainte-Marie performing with the mouthbow. Believed to be the oldest stringed instrument in the world (Sainte-Marie 1996), it features prominently on her first three albums.
Sainte-Marie continued to write and record prolifically throughout the 1960s, with her second album Many A Mile (1965) highlighted by the song "Until It's Time For You To Go", which has been frequently covered by other artists. On 1966's Little Wheel Spin And Spin, Sainte-Marie released one of her most ambitious political protest songs, the nearly seven-minute "My Country 'Tis Of Thy People You're Dying," which discusses Canadian residential schools and the genocidal violence perpetrated against Indigenous people. Fire & Fleet & Candlelight (1967) included her first experiments with electronic music, while 1968's I'm Gonna Be A Country Girl Again, recorded in Nashville with country musician Chet Atkins, marked yet another stylistic departure.
On 1969's Illuminations, the 28-year-old artist became even more experimental. Working with electronic musician Michael Czajkowski, the album's songs were augmented with the Buchla Model 100 synthesizer, manipulating Sainte-Marie's voice and guitar with a variety of effects that sound strikingly different from her folk singer origins. Illuminations begins by setting Leonard Cohen's poem "God Is Alive, Magic Is Afoot" to music, before descending into a cycle of songs about the natural, spiritual, and metaphysical worlds. Though it failed to achieve commercial success at the time of its release, the album has become a critical favorite. The British experimental music magazine The Wire included Illuminations in their list 100 Albums That Set The World On Fire While No One Was Listening (Kopf 1998) and the album was celebrated with a 50th anniversary reissue in 2019.
By the end of the 1960s, Sainte-Marie's music was well known thanks to cover versions of her songs, even if she was yet to become a household name herself. These include Donovan's interpretation of "Universal Soldier", and covers of "Co'dine" by Gram Parsons and Janis Joplin (adding her own modified lyrics), followed many years later by the alternative rock band Hole on their 2010 album, Nobody's Daughter. "Until It's Time for You to Go" is one of Sainte-Marie's most covered songs, with 157 unique interpretations (Farber 2022a) from artists such as Elvis Presley, Barbara Streisand, Françoise Hardy, Cher, Neil Diamond, and The Monkees.
The 1970s were another busy decade for Sainte-Marie, beginning with her first collaboration with songwriter and producer Jack Nitsche on 1971's She Used to Wanna Be a Ballerina. Its followup, 1972's Moonshot, launched her working relationship with Nashville-based musician Norbert Putnam, who co-produced her next four albums. (Warner 2018c) Sainte-Marie concluded her contract with Vanguard Records with 1973's Quiet Places, and signed to her new label MCA with 1974's Buffy, featuring the glam-rock sound of "Sweet Little Vera" and the poetic, political lyrics of "Generation." Sainte-Marie ended the decade with 1975's Changing Woman and 1976's Sweet America. The latter is highlighted by "Starwalker", the first song in history to feature a sample of Indigenous powwow music. Sweet America also marked a 16-year hiatus from studio album releases while Sainte-Marie raised her son, Dakota "Cody" Starblanket Wolfchild.
Sainte-Marie has written songs for film soundtracks since her theme for 1970's Soldier Blue, depicting the massacre of a Cheyenne village by Colorado State Militia. (Irwin 2009) Other soundtrack contributions include her songs "Dyed, Dead, Red" and "Hashishin" (the latter co-written with Ry Cooder) for 1970's Performance, as well as scores for the 1984 short film Harold of Orange and the 1986 docudrama Stripper. Sainte-Marie is best known in this field for co-writing the song "Up Where We Belong" from the 1982 film An Officer And A Gentleman with her former husband Jack Nitzsche, becoming the first Indigenous person to win an Academy Award in 1983. Sainte-Marie has spoken openly about the abuse she suffered from Nitzsche during their seven-year relationship, including being injected with heroin in her sleep (Farber 2022b), before ending their marriage in 1989.
Sainte-Marie returned to music with her 1992 comeback album, Coincidences and Likely Stories, which made history as the first album made over the internet. Collaborating with UK-based co-producer Chris Birkett remotely from her home in Hawaii, Sainte-Marie sent electronic files with early Macintosh computers and the program CompuServe. (Frank 2022) Coincidences and Likely Stories also included a re-recorded version of "Starwalker", using new electronic recording technology to improve the clarity of its powwow sample, and one of Sainte-Marie's most acclaimed songs, "Bury My Heart At Wounded Knee", which she spent 14 years to complete (Warner 2018d).
Sainte-Marie continued her collaboration with Birkett on 2008's Running for the Drum, sampling traditional Indigenous music on the songs "No No Keshagesh", "Cho Cho Fire", and "Working for the Government." The latter was reworked into a 2015 remix by electronic music group The Halluci Nation, featuring vocals from Sainte-Marie. Her 2015 album Power In The Blood looked even further backwards with a re-recorded version of the title track from Sainte-Marie's 1964 debut, It's My Way! Her most recent release is 2017's Medicine Songs, a career-spanning compilation of Sainte-Marie's activist songs, featuring a new collaboration with Inuk throat singer Tanya Tagaq on "You've Got To Run (Spirit of the Wind)."
Sainte-Marie established the Nihewan Foundation for Native American Education in 1969 to award Indigenous youth with scholarships to attend post-secondary schools. Two of her early scholarship recipients have become the presidents of tribal colleges. (Warner 2018e) She expanded this initiative in 1996 with the launch of the Cradleboard Teaching Project, an education curriculum providing an Indigenous-focused alternative to the typical Eurocentric lessons taught to children in North American classrooms. Tools included interactive CD-ROMs such as Science: Through Native American Eyes and innovative forms of online communication such as chat rooms and video conferencing. On the Cradleboard website, Sainte-Marie details the project's accomplishments:
"In October of 1996, we received a two year grant from the W.K. Kellogg Foundation of Battle Creek, Michigan, and since that time have modeled the Cradleboard Teaching Project in Mohawk, Cree, Ojibwe, Menominee, Coeur d´Alene, Navajo, Quinnault, Hawaiian, and Apache communities in eleven states" (Sainte-Marie 2002).
In 1968, when she was cast on an episode of the television program The Virginian, Sainte-Marie took progressive action in the entertainment industry by successfully demanding that all other Indigenous roles in the show be cast with Indigenous people. (Humphrey 1968) Sainte-Marie appeared as a recurring character on Sesame Street from 1975 to 1981, where she continued to educate viewers on Cree culture and Indigenous representation. In 1977, she famously became the first person to breastfeed on television in a segment with her son Dakota "Cody" Starblanket Wolfchild (Sen 2018).
In more recent years, Sainte-Marie's animated video series Paddling On Both Sides, a collaboration with visual artist Blake Angeconeb, was created for the Downie Wenjack Fund's initiative Reconciliation Begins With You. Following in the footsteps of the Cradleboard Teaching Project, Paddling On Both Sides provides a positive alternative to the tragic narratives dominating media representation of Indigenous people by educating viewers on their many accomplishments and innovations. (Lawrence 2021) Sainte-Marie is also the author of several children's books including 2020's Hey Little Rockabye: A Lullaby for Pet Adoption, and 2022's Tapwe and the Magic Hat.
Awards and Accolades
Sainte-Marie has earned countless awards and accolades throughout her career, beginning with Billboard Magazine naming her the Best New Artist of 1964. Three years later, Billboard writer Aaron Sternfield described Sainte-Marie as "the patron saint of non-hippy hipsters" after she received a 10-minute standing ovation during her performance at the Philharmonic (Warner 2016). Other honors include Sainte-Marie's 1993 Charles De Gaulle Award for Best International Artist, the 2009 Lifetime Achievement Award from the Aboriginal People's Choice Music Awards, and the 2010 Governor General's Performing Arts Award. She was inducted into Canada's Walk of Fame in 1999, the Canadian Country Music Hall of Fame in 2009, and the Canadian Songwriters Hall of Fame in 2019.
Sainte-Marie has received Honorary Doctorates from 15 post-secondary institutions, most recently recognized by the University of Toronto with a Doctor of Laws in 2019. She has also received numerous humanitarian honors, including her 1997 induction as an Officer into the Order of Canada, the 1998 Lifetime Achievement Award from the American Indian College Fund, and the 2019 PARO Centre for Women's Enterprises Inaugural Women's Voice Award. Sainte-Marie's three most recent albums have received some of the highest honors from Canada's creative arts awards, beginning with Running for the Drum winning the 2009 JUNO Award for Best Aboriginal Album. Her 2015 album Power in the Blood was awarded with the Polaris Music Prize, as well as JUNO Awards for Indigenous Music Album of the Year and Contemporary Root Album of the Year. Most recently, 2017's Medicine Songs was also awarded with a JUNO Award for Indigenous Music Album of the Year. (Warner 2018e)
In 2021, Sainte-Marie was honored with a commemorative stamp from Canada Post, and became the subject of the feature-length documentary Buffy Sainte-Marie: Carry It On, which premiered at the 2022 Toronto International Film Festival. (Longmire 2022) Now in her early 80s, she continues to advocate for the rights of Indigenous people, while recording, touring, and performing to fans around the world.
References
Farber, J. (2022) Buffy Sainte-Marie: 'I didn't know I was ahead of the pack at the time' https://www.theguardian.com/music/2022/nov/21/buffy-sainte-marie-documentary-interview Retrived 15 Dec 2022.
Frank, A. (2022) How Buffy Sainte-Marie innovated electronic music in the 1960s https://www.pbs.org/wnet/americanmasters/buffy-sainte-marie-electronic-music-1960s/24281 Retrieved 15 Dec 2022.
Irwin, C. (2009) Buffy Sainte-Marie on a rollercoaster career that even the FBI kept an eye on https://www.theguardian.com/music/2009/jul/31/buffy-sainte-marie Retrieved 15 Dec 2022.
Kopf, B. (1998) 100 Albums That Set The World On Fire While No One Was Listening http://web.archive.org/web/20070613182618/http://www.rtxarchive.com/archive/articles/wire175.html Retrieved 9 Dec 2022.
Lawrence, M. (2021) Artist from Lac Seul First Nation making waves with new video collaboration https://www.siouxbulletin.com/artist-from-lac-seul-first-nation-making-waves-with-new-video-collaboration Retrieved 15 Dec 2022.
Longmire, B. (2022) 'Buffy Sainte-Marie: Carry It On' To Premiere At TIFF 2022 https://etcanada.com/news/919444/buffy-sainte-marie-carry-it-on-to-premiere-at-tiff-2022/ Retrieved 16 Dec 2022.
Norrell, B. (1999) Uncensored: Buffy Sainte-Marie honored with lifetime achievement award https://bsnorrell.blogspot.com/2008/10/canadian-aboriginal-music-awards-is.html Retrieved 16 Dec 2022.
Sainte-Marie, B. (1996) The Mouthbow: Making Music on a Weapon
http://www.cradleboard.org/curriculum/powwow/supplements/mouthbow.html Retrieved 9 Dec 2022.
Sainte-Marie, B. (2002) Cradleboard History http://www.cradleboard.org/2000/history.html Retrieved 15 Dec 2022.
Sen, M. (2018) The short-lived normalization of breastfeeding on television https://hazlitt.net/feature/short-lived-normalization-breastfeeding-television Retrieved 16 Dec 2022.
Seymour, C. (2018) Iconic Protest Singer Buffy Sainte-Marie Has Been Blacklisted by Nixon, Sampled by Kanye, And Breastfed Her Baby on Sesame Street—for Starters https://www.vogue.com/article/buffy-sainte-marie Retrieved 15 Dec 2022.
Warner, A. (2016) Buffy Sainte-Marie: 75 things you need to know about the Canadian icon
https://www.cbc.ca/music/read/buffy-sainte-marie-75-things-you-need-to-know-about-the-canadian-icon-1.5010129 Retrieved 15 Dec 2022.
Warner, A. (2018) Buffy Sainte-Marie: The Authorized Biography. Canada: Greystone.
Zoladz, L. (2012) Illuminations: A Biography of Buffy Sainte-Marie
https://lareviewofbooks.org/article/illuminations-a-biography-of-buffy-sainte-marie/
Retrieved 8 Dec 2022.