By Paige Delsa
Amongst the countless heroes who've graced the silver screen, few have had both the charisma and ability to captivate an audience like FBI trainee Clarice Starling. Aided by the imprisoned, cannibalistic Dr. Hannibal Lecter, Jon Demme's psychological thriller Silence of the Lambs explores in gripping detail Starling's attempts to capture serial killer Buffalo Bill.
Starling exceptionally displays her prowess as a hero, guided by Lecter, and establishes herself as a prototype for not only FBI agents to aspire to, but also other film protagonists. Starling is immediately presented as an underdog of sorts, operating as both a student and a woman in the male-dominated FBI. This status as an underdog does little to limit her desire to succeed and overcome her past trauma. If anything, this status amplifies her exceptional actions.
As a trainee, Starling perpetually exists in a vulnerable state due to her inexperience and lack of agency. Starling, after being approached by FBI Agent Jack Crawford, attempts to receive Lecter's help in profiling Buffalo Bill, another prolific serial killer. Though just a trainee, she manages to impress the psychopathic, highly intelligent Lecter with her honesty and strength despite her discomfort around the now disgraced psychiatrist.
We see the first glimpse of Starling's heroic capabilities in her interaction with Lecter; the courage and selflessness it took to honestly engage with the amoral man would again appear in her confrontation with Buffalo Bill.
Starling's actions apprehending Buffalo Bill display exceptionality in both the courage and the general selflessness involved in resolving the precarious situation. Completing an action that is not only morally good but also exceptional is one of the core tenets of heroism.
After accidentally identifying Jame Gumb as Buffalo Bill, even before her amply resourced colleagues at the FBI, she engages in a heated confrontation with both her life and the life of the girl hidden at the bottom of Gumb's basement on the line. In only a few short minutes, Starling displays immediately recognizable attributes of heroism, namely intelligence, strength, shrewdness, resilience, courage, and selflessness.
It would be in gross neglect to delve into Starling's heroic performance without mentioning her foil, the distinguished Hannibal Lecter. The characters' existences are inextricably linked to one another. Lecter, more so than Buffalo Bill, acted as a cultivator and amplifier of Starling's heroic capabilities by provoking one of the most recognizable and crucial elements of heroism: transformation.
When she first appears before Lecter, Starling was no more than a scared little girl wearing the guise of a full-grown woman. Her traumas haunted her waking hours and nightmares, motivating her to succeed in law enforcement, but leaving her with a perpetual uncertainty in herself. With his pointed questions into her macabre childhood, Lecter strips away Starling's protective exterior and forces her to confront the traumas of her youth.
In finding and killing Gumb, Starling resolves the primary conflict of the film and fully actualizes her status as a hero. Without Lecter, Starling wouldn't have transformed into a fully fleshed hero, capable of successfully hunting Buffalo Bill and addressing her traumas. It's tempting to think the best or most heroic characters are perfect in their strength, intelligence, beauty, ability to lead, and any other traits commonly associated with heroes.
Clarice Starling is not perfect. She is scared. She is traumatized. She is weaker physically than Jame Gumb and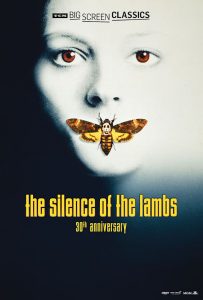 lacks Hannibal Lecter's sharp wit. But these traits, these imperfections do not take away Starling's status as a hero. Rather, they elevate her to the upper echelon of cinematic heroes. Her imperfections make her accomplishments all the more extraordinary and let the audience engage deeply with her. She is like us. She is imperfect and pained but capable of great strength.
Bringing down Gumb and enticing Lecter to assist her manhunt displayed the elements of courage and morality fundamentally necessary to distinguish oneself as a hero. Starling has transcended the mere classification of protagonist, proving she deserves to be called "hero."
– – – – – – – – –
Paige Delsa is an undergraduate student at the University of Richmond.  She is enrolled in Scott Allison's Heroes & Villains course and composed this essay as part of her course requirement