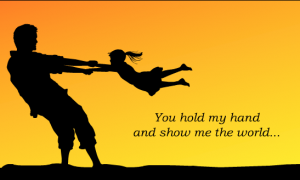 By Scott T. Allison and George R. Goethals
In our Mother's Day blog post, we noted our research finding that people listed their mothers as heroes more often than any other person.  Fathers were a close second.   Why are parents viewed as so heroic?  Developmental psychologists tell us that the relationship we have with our parents is the first significant relationship of our lives.  It is a relationship that indelibly shapes our values, our aspirations, and our future behavior.  Thus when we experience successes in our careers and in our personal lives, it is not surprising that we attribute those triumphs, at least in part, to our parents.
The origin of Father's Day is not entirely clear, but there are several fascinating possibilities.  Babylonian scholars have discovered a message carved in clay by a young man named Elmesu roughly 4,000 years ago.  In the message, Elmesu wishes his father good health and a long life.  Some believe this ancient message represents evidence of an established tradition of honoring fathers, but there is little evidence to support a specially designated Father's Day until modern times.
There is some debate about the origin of the Father's Day that we celebrate today.  Some claim that a West Virginian named Grace Golden Clayton deserves the credit.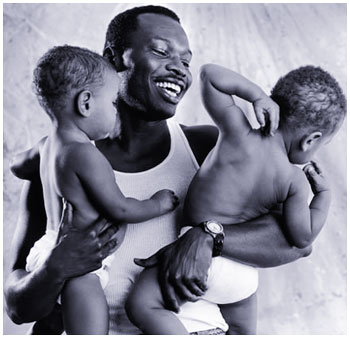 In 1907, Clayton was grieving the loss of her own father when a tragic mine explosion in Monongah killed 361 men, 250 of whom were fathers.  Clayton requested that her church establish a day to honor these lost fathers and to help the children of the affected families heal emotionally.  The date she suggested was July 8th, the anniversary of her own father's death.
Still others believe that the first Father's Day was held on June 19, 1910 through the efforts of Sonora Smart Dodd of Spokane, Washington.  Inspired by the newly recognized Mother's Day, Dodd felt strongly that fatherhood needed recognition as well.Her own father, William Smart, was a Civil War veteran who was left to raise his family alone when his wife died giving birth to their sixth child.  Dodd was the only daughter, and she helped her father raise her younger brothers, including her new infant brother Marshall.
Whereas Mother's Day was met with instant enthusiasm, Father's Day was initially met with scorn and derision.  Few people believed that fathers wanted, or needed, any acknowledgement.  It wasn't until 1972 that President Richard Nixon made Father's Day an official holiday.  Today the holiday is widely celebrated in the month of June by more than 52 countries.
Why are fathers heroes? 
The respondents in our survey listed two main reasons.  First, fathers are given credit for being great teachers and mentors.  They teach us how to fix a flat tire, shoot a basketball, and write a resume.  Fathers are less emotional than mothers, but they lead by example and devote time demonstrating life skills to us.  Former governor of New York, Mario Cuomo, once said, "I talk and talk and talk, and I haven't taught people in 50 years what my father taught by example in one week."
Second, fathers are great providers and protectors.  Our respondents told us that their fathers were heroes in their commitment to provide for their families, often at great sacrifice.  Many fathers work at two or more jobs outside the home to ensure that their families have adequate food and shelter.  Fathers also provide us with a sense of safety and protection.  Sigmund Freud once wrote, "I cannot think of any need in childhood as strong as the need for a father's protection."
On this Father's Day, we wish all fathers, and all men who serve as father figures, all the kudos they so richly deserve.  Happy Father's Day!
– – – – – –
Do you have a hero that you would like us to profile?  Please send your suggestions to Scott T. Allison (sallison@richmond.edu) or to George R. Goethals (ggoethal@richmond.edu).