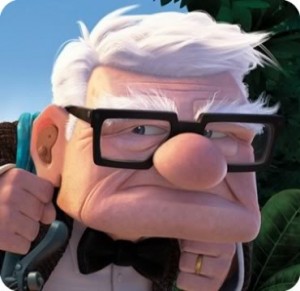 By Robby Schranze and Brian Guay
Heroes come in all shapes and sizes, though not usually in the form of a short old man with a cane.
In Disney Pixar's 2009 animated film, Up, Carl Fredricksen becomes a hero after he begrudgingly discovers an unwanted passenger aboard his escape to paradise, and gradually sacrifices his life's goal for this young boy's happiness.  
After the loss of his wife, Carl lives his life as a recluse.  He sits beside his late wife's empty chair in their house surrounded by objects and memories as a city grows around him.  Rather than move to a retirement home or give up his house, Carl releases thousands of balloons that lift the house away into the sky.  Though Carl escapes a changing outside world, he brings his inner world (i.e., his house and belongings) with him, not willing to part with this connection to his wife.
Carl crosses a threshold from a journey to his unexpected journey when, floating at 10 thousand feet, a terrified boy knocks on his door and asks to come inside to safety.  In an instant, Carl's solitude is disrupted and his life is flipped upside down. Yes, grumpy old Carl initially refuses to let Russell inside!
With the 8-year old now at his side, Carl encounters a long dirt road of trials and tribulations that weaves through the deep South American wilderness.  The pair get caught between a rare exotic bird named Kevin, who is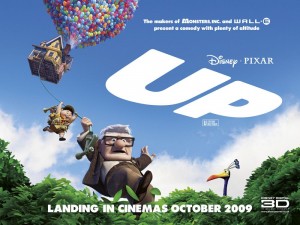 trying to find her children, and an evil explorer seeking to capture the bird.  Carl's selfish nature surfaces one last time when he abandons the bird, alienates Russell, and returns to his beloved house.
However, Carl undergoes a transformation and is called to action once more, though this time not by the selfish, reclusive motives that originally sent he and his house into the sky.  In order to lift the house back into the air to save Russell and Kevin, Carl destroys his precious belongings.  This pure sacrifice of his inner-life for others is a significant turning point in his life and establishes him as a hero.  He later risks his life and nearly falls to his death to save Russell, cementing his new role as Russell's and the audience's hero.
After Carl and Russell save Kevin, they return home on a magical flight, crossing the threshold back from their adventure and bringing with them new identities.  Carl fills in as Russell's father figure at his boy scout ceremony and gives Russell a gift that once belonged to his wife.  This gift marks Carl's immense transformation from a grumpy, secluded old man to a caregiver, friend, and father figure.  With this change, Carl is able to prove that he is a master of two worlds; he followed his childhood dream to explore the world, and he is able to love and care for someone after the loss of his wife.
Just as not all heroes carry a cane, not all heroes are without challenges and faults.  Faced with immense grief and a selfish attitude, Carl demonstrates the timeless act of transformation, self-sacrifice, and renewal that inspires us all.
– – – – – – – – – – – – – – – – – – – – –
Robby Schranze and Brian Guay are undergraduate students at the University of Richmond. They wrote this essay as part of their course requirement while enrolled in Dr. Scott Allison's Social Psychology class.