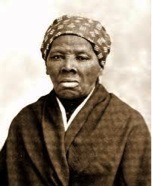 By Mary Hampton, Kelsey Donner, & Jessica Partlow
In 1820, Harriet Tubman, born Araminta Ross, was born into a family of slaves in Maryland. Several of her siblings were sold by their owners and she never saw them again. Harriet spent countless hours laboring for others. Along with doing manual work for her owners, she had to put up with numerous beatings, one in particular that split her skull open and never healed, causing severe brain damage. She never received any medical attention and the trauma resulted in epileptic seizures and narcolepsy for the rest of her life. Her resentment and anger at her circumstances steadily grew, particularly after she was threatened with being sold, fueling her passion to escape and bring others along with her.
Harriet was called to be a freedom hero. In 1849, Harriet became ill once again as a result of her head injury. Her value as a slave was diminishing and her owners were attempting to sell her. Soon afterward, one of her owners died and it became likely that her family would be split up and sold to different owners to settle his estate. Harriet decided she would not be sold again so she fled to Pennsylvania through the Underground Railroad. She successfully avoided slave catchers by traveling at night and seeking the protection of abolitionists.
She had not been in free territory for long when she heard that her niece was going to be sold. Tubman decided to go back to slave territory to save her niece and her children. She selflessly wanted to help others and she would risk her life in doing so.
In December of 1850, Tubman made the bold and dangerous decision to return south. Risking her own re-enslavement, she courageously embarked on the first of many journeys to set her people free. On her first trip she brought her niece and family to the north by the same route she escaped by.
A few months later she returned for her own brother and was well on her way to earning the nickname "the Moses"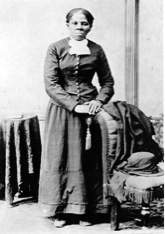 of her people. In over a decade she made 19 trips to the south and back, rescuing over 300 slaves. Slave owners in the south never knew there was one person behind the escape of so many slaves, but other abolitionists did.
She worked with many abolitionists like Thomas Garrett, Frederick Douglass, John Brown and William Lloyd Garrison.  Douglass and Brown both counted Tubman among the bravest and most important anti-slavery heroes of the day. Tubman successfully led slaves to freedom for nearly a decade without ever being discovered or losing a single passenger on her "underground railroad." She was a valued activist and spoke publicly to abolitionists while taking care of her relatives and fighting her illness.
When the Civil War began Harriet first served as a nurse before adopting a more active role by helping map terrain for the Union Army and even leading armed assaults. When slaves were liberated from captured Confederate Territory she helped to recruit them to the Union Army.
Despite her incredible work and dedication to the Union, Harriet was never compensated and the U.S. government did not properly recognize her service until nearly 40 years later. The fact that she never received compensation combined with her role as caretaker for her family and rescued slaves meant that she was in a perpetual state of poverty. Despite the constant difficulties she faced with her health, her finances and the total lack of recognition, Harriet never stopped working to help other people.
Harriet Tubman showed great heroism during her journey from slavery to freedom to liberator. Her life was not easy and her experience of belittlement and hardship persisted even into the 20th century. Even though she was oppressed herself in being a disabled, uneducated, black, former slave woman, she navigated physical, social and political danger for the sake of freedom. She received some recognition for all of her many achievements, including her work in the suffragette movement.  She pursued her vision unswervingly and by the end of her life, Tubman was widely known and finally received the respect she deserved. After her death she has become widely recognized as one of the most important American heroes and activists for the end of slavery and civil rights for former slaves, African-Americans, and women.
– – – – – –
Mary Hampton, Kelsey Donner, & Jessica Partlow are undergraduate students at the University of Richmond. They wrote this essay as part of their course requirement while enrolled in Dr. Scott Allison's Social Psychology class.