By Abby Seaberg
Vincent Bruno is a high-energy guy.
After moving to Richmond from Atlanta last August, 26-year-old Bruno immediately set out to learn everything about Richmond's history, Richmond's people and Richmond's soul. Within two months he was working as a tour guide with RVA on Wheels, spinning visitors around downtown Richmond on Segways while tossing out facts about his adopted city. Bruno talks fast, and walks with the same energy. Even as a member of the varsity track team at the University of Richmond, I was hustling to keep up as he and I hiked along the roaring high waters of the James River.
For Bruno and Richmond, it was love at first sight. And the James River has a lot to do with it.
Bruno wants everyone to appreciate the James River. That is why he's made Brown's Island — with the skyline in sight and the river rushing past — a key stop on almost every tour he gives.
"The river is clearly a part of the Richmond life, so it's kinda hard to get a feel for the city if you don't visit the river," Bruno said. "Richmond would never have been settled if it weren't for the rapids of the James River to power mills."
Bruno shares his appreciation for the river on his tours, but he also celebrates it in his paintings. In fact, he originally moved here hoping to tap into Richmond's "emerging" art community, which is more open than the highly developed art scene in Atlanta.
So far he has done two paintings inspired by the river, with another in the works. His most recently completed painting (below) is that of a great blue heron with the CSX atrium in the background. That juxtaposition of nature and architecture is one of his favorite themes.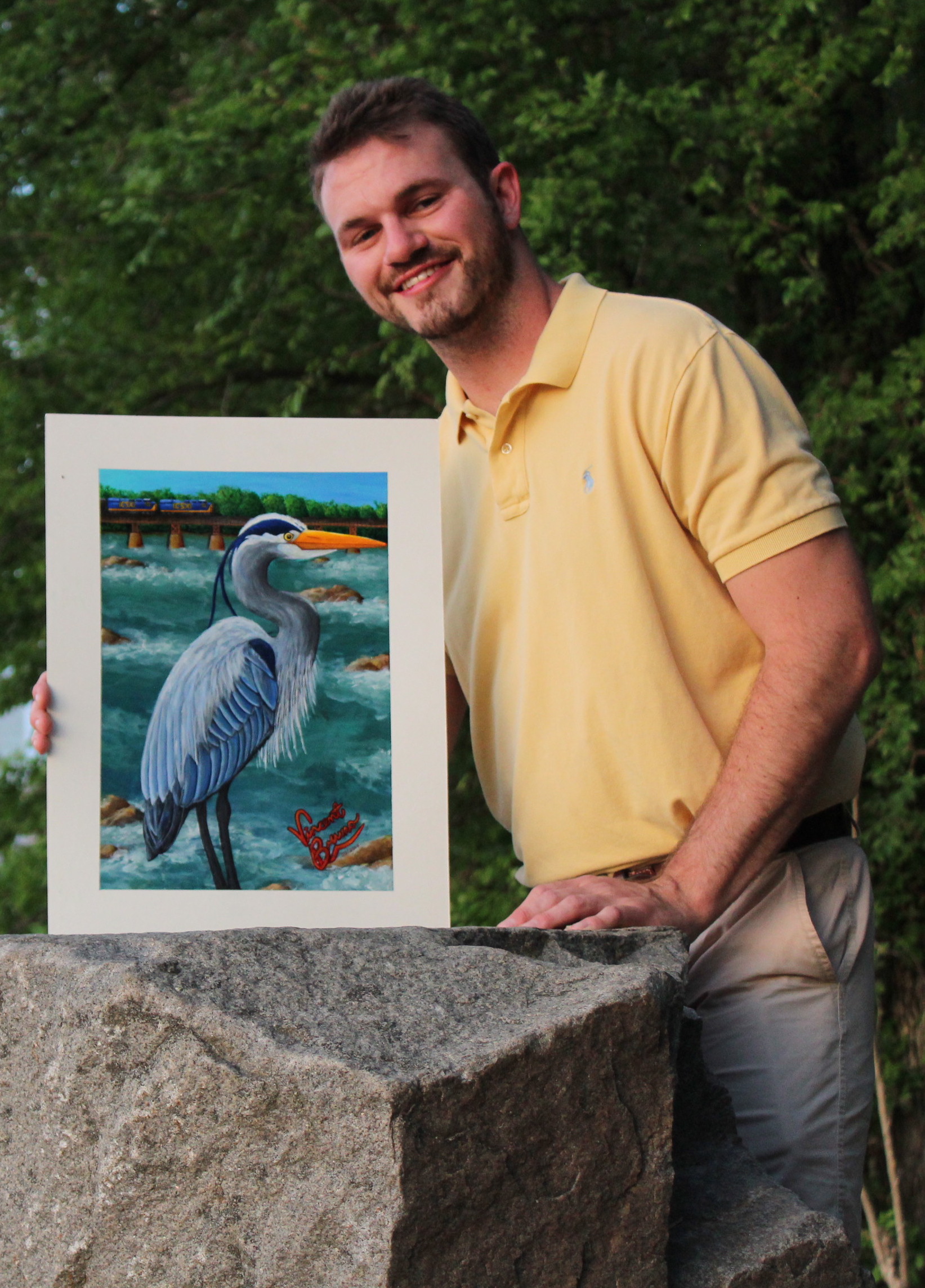 "Richmond's nice because you have these straight lines that you have to mimic, but then you also have the natural environment where you can let your hands just flow through naturally," he said. "It's a little bit of practice on both ends."
Since he's only been here a short time, Bruno missed some of the prime weather for on-site painting, so most of his current depictions of the river and its creatures have not been done on-site.
"I've found places I enjoy while I'm here, and then looked up photo references," Bruno said of his process, but with the nicer weather and everything in bloom now, Bruno is looking forward to more on-site painting.
Beyond the balance of architecture and natural images, Bruno loves painting the river because of the diversity of wildlife. "A sweet spot" is what he calls it.
"We get species that are normally up north and species from the south, but are all kind of [mingling in] our city," Bruno said, referencing species like osprey, bald eagles and white-tailed deer.
As to his long-term goals, Bruno hopes to travel the country, or even the world, capturing the beauty of those places through his art. Richmond, he says, has shown him the way.
"If you see a river with a city in the background and all these animals, it's no mistake — that's Richmond right there."