Explorations
In the spirit of the Out of Eden Walk, students from the University of Richmond set out to report on their city using the techniques of slow journalism. This spring the students focused on Jackson Ward, a historic African-American neighborhood in the heart of downtown Richmond. Their storytelling projects are presented below.
Go to Sunday Culture
Sunday Culture
Sunday is a special day in Jackson Ward, where people from the community fill more than 15 churches with song and prayer. In all corners of the neighborhood, people rely on church leaders and their fellow congregants to provide a source of strength through good times and bad.
Go to Fault Lines
Fault Lines
The streets of Jackson Ward are vital arteries that bring new life and prosperity flowing into the community. They also show the lasting effects of a manmade impediment, and how Jackson Ward and Gilpin Court, once integrally connected, were split by an interstate highway into two very different communities.
Go to Neighbors
Neighbors
Jackson Ward today is in transition, from a historically African-American community to one that includes white professionals, students, immigrants, and many others. A walk through this changing neighborhood reveals the individual identities that make communities like Jackson Ward so complex and interesting.
Go to Rejuvenations
Rejuvenations
Jackson Ward's rich legacy has roots in a distinctly African-American Southern culture, including fine food and entertainment. Two Jackson Ward institutions–the Hippodrome Theater and Mama J's Kitchen–embody the community's commitment to both preservation and rejuvenation.
Go to Doing Business
Doing Business
Once a thriving center for African-American commerce symbolized by banker Maggie Walker, Jackson Ward suffered a decline in the 1960s and 70s that persisted for decades. Today the neighborhood is enjoying a commercial renaissance of sorts, primed by a diverse business community and new types of customers.
Go to The Far Side of 95
The Far Side of 95
Gilpin Court lies on the far side of Jackson Ward, isolated since the 1950s by an interstate highway, I-95, that divided this once-thriving community. Today, Gilpin Court is mostly known as a sprawling complex of low-income housing projects. Still, there is culture and life in even the most forgotten places.
walk, report, share.
Student reporting at the University of Richmond
Our class, like the Out of Eden Walk, is designed to explore the creative frontiers of Slow Journalism, a movement away from the super-fast, superficial coverage that dominates modern news media, and towards a more in-depth, deliberate, mindful approach to narrative storytelling using the latest tools of digital technology.
Field Dispatches
Student reporting from the streets of Richmond, Virginia.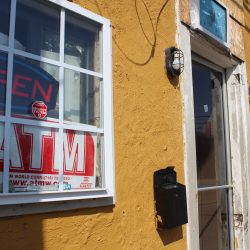 I gesture towards Gilpin Court, craggy and salmon-colored in the distance. "What do you see, when you look over there?" I ask. Fuad Fara, employee and chef at ANA, Gilpin Court's only deli and convenience store, barely turns around. He grins, sly and sunny. "I see a business opportunity," Fara says.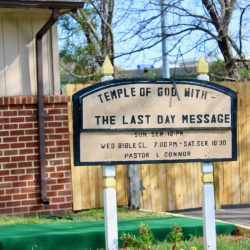 by Lucy Nalen Sam Winston, 61, serves as an elder at Temple of God apostolic church in Gilpin Court. Which means he's a leader of the church that he helped build from scratch on an empty lot 20 years ago. I asked him about the size of the congregation. "Sometimes 20, sometimes 25, sometimes four," Read more about A Vision, an Empty Lot, an Answered Prayer[…]
Previous
Next