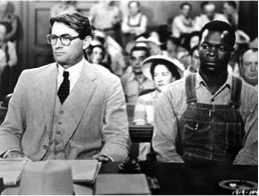 By Sophia Grillo
One of the most admirable actions that a human being can perform is an act of moral courage. Moral courage is aimed at stopping the unfair treatment or degradation of individuals by reinforcing moral standards and values. The key to a morally courageous act is having the ability and willingness to overcome barriers and to withstand pushback from others.
One fictional character who demonstrates a great act of moral courage is Atticus Finch. Not only did he defy the majority and put his family in danger, he stood by his beliefs in honor of racial equality.
To Kill A Mockingbird, written by Harper Lee, takes place in a racist white community of Maycomb, Alabama. Atticus Finch, the father of Jem and Scout Finch, is a prominent lawyer and financially prosperous compared to the rest of his community. Putting the community's racist beliefs aside, Atticus agrees to defend a black man named Tom Robinson, who has been accused of raping a white woman, Mayella Ewell.
When the trial begins, Tom Robinson is placed in the local jail and an angry mob of white men tries to lynch him.  Atticus confronts the mob the night before the trial. Jem and Scout, who have sneaked out of the house, soon join him. Jem and Scout are exposed to the horrors of the racist community that they live in and face verbal abuse from other Maycomb citizens.
At the trial itself, the children sit in the "colored balcony" with the town's black citizens. Atticus provides clear evidence that the accusers, Mayella Ewell and her father, Bob, are lying. Despite overwhelming evidence pointing to
Tom's innocence, the all-white jury convicts him. Tom later tries to escape from prison and is shot to death.
Atticus' decision to defend Tom Robinson is an act of moral courage for multiple reasons. Atticus was one of the few people of Maycomb who believed in racial equality. It took great courage to challenge the racist climate of that time. It would have been much easier for him to align with the majority than to fight for the rights of one black man.
Another reason Atticus' actions can be seen as morally courageous is because his decision to defend Tom put his family in danger. The exposure of the Finch family during the trial caused Scout and Jem to face constant harassment from other children and adults in Maycomb. Although Atticus knew that his family would face this horrific kind of treatment, he decided that the life lessons of this experience far outweighed any negatives.
Atticus showed his children firsthand a hard lesson about right and wrong, and that sometimes the unpopular road is the right road. Witnessing their father's actions, Jem and Scout are able to learn for themselves to stand up for truth and justice no matter what the consequences. Atticus spreads moral courage without even realizing it.
Atticus also stuck to his beliefs. One of the most important characteristics of morally courageous people is that they remain committed to their ideas despite all consequences. In this case, Atticus knew what he was getting into when he decided to defend a black man. Instead of letting the ignorance of others discourage him, he continued to put on a fair trail and taught his children valuable lessons along the way.
Psychologist Anna Halmburger has recently proposed an Integrative Model of Moral Courage and Relevant Determinants. She outlines five steps leading to morally courageous behavior. First, one must notice the situation; second, they have to interpret the situation as a "norm violation"; third, they must accept responsibility to act; fourth, they must possess intervention skills; finally, they must decide to take the intervening action.
Atticus Finch goes through each of these decision stages leading up to the trial. He acknowledges the accusation of Tom Robinson and the fact that racism is a huge problem in Maycomb. He then accepts responsibility as a lawyer that everyone deserves a fair chance no matter what his or her skin color. He ignores personal constraints like what consequences he and his family would face. And finally, he intervenes with strong evidence that Tom Robinson is innocent.
The difference between moral courage and heroism is that moral courage is much more personal than heroism. For example, Atticus personally believes that racial inequality is wrong. Halmburger writes, "moral courage is aimed to protect moral values and standards." In other words, the main purpose of morally courageous acts is to spread and enforce positive and personal morals. Atticus not only spread his morals but he also protected the rights of another citizen even if the town did not agree.
At the end of her article, Halmburger writes, "The more everyone contributes to the protection of moral values in their daily lives, the fewer heroes will be needed to show morally courageous behavior." The world needs more people like Atticus Finch. The more people who try to spread and protect positive morals, the fewer societal problems there will be. The whole purpose of Atticus defending Tom Robinson was his hope that his moral stand would become contagious and lead to the defeat of racial inequality.
Personally, I believe that moral courage is more admirable than heroism because anyone can be a hero. It takes real strength to stick to your beliefs in the face of tremendous adversity and discomfort while ignoring all possible consequences. Atticus states "if I didn't I couldn't hold up my head in town, I couldn't represent this county in the legislature, I couldn't even tell you or Jem not to do something again. […] Scout, simply by the nature of the work, every lawyer gets at least one case in his lifetime that affects him personally. This one's mine, I guess." (9.16-21) This quote shows that this trial was more than just defending an innocent victim. It was about doing the most good and letting nothing stand in the way of personal values and beliefs.
Overall, Atticus Finch was definitely not viewed as a hero to anyone in Maycomb. However, his bold actions of moral courage showed that it didn't matter if people viewed him as a hero. What mattered was the lesson and example he set for his own children and his bravery in going against an entire town for the sake of one man's rights. His action reflects the qualities of a truly moral lawyer and remarkable human being. It makes Atticus Finch as admirable, if not more so, than any hero.
References
Allison, S. T., Goethals, G. R., & Kramer, R. M. (Eds.) (2017). Handbook of heroism and heroic leadership. New York: Routledge.
Halmburger, A., Baumert, A., & Schmitt, M. (2017). Everyday heroes: Determinants of moral courage. In S. T. Allison, G. R. Goethals, & R. M. Kramer (Eds.), Handbook of heroism and heroic leadership. New York: Routledge.
– – – – – – – – – – – – – – – – – – – – – – – – – – – – –