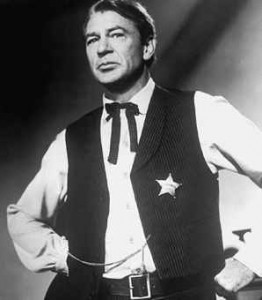 By Jesse Schultz
In many ways the hero of the western genre has it easy. They're often tough as nails, a sure and expert shot with a six-shooter or two, and can meet any threat with a steely-eyed resolve. While their opponents can be formidable, in the end these adversaries will be not quite as brave, tough, or good with a gun.
That was what made the portrayal of the character of Will Kane so jarring in the 1952 film High Noon. America was familiar with the western, ranging from well-made dramas to B-grade outings with comedy and song. The plot is a familiar enough one: the lawman of a small frontier town receives word that a bad man and sworn enemy has been released from jail and is en route to meet up with his gang. Revenge is promised and a showdown inevitable.
But already Kane is reluctant to face his old nemesis. Newly married to a Quaker wife (played by Grace Kelly), Kane only wants to retire from his position as Marshal and ride off with his bride — which he actually does at first at the behest of his friends. But he can't.
Instinctively, Kane knows that he will have to face his enemy, Frank Miller, eventually and he decides that he'd rather do it at his home with a badge and a gun. Here the plot deviates from formula as Kane receives no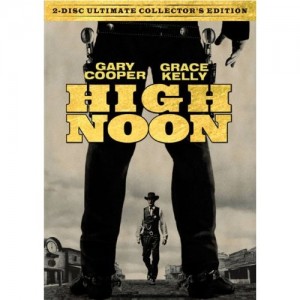 help from his old friends and even his new wife is urging him to flee. His attempts to recruit deputies is an abject failure and his current deputy will only help if he's promised the job of Marshal — a position Kane does not believe he's fit for.
The town is unanimous: despite the crimes Frank Miller has committed or the fact that collectively they outnumber his gang several times over they want Will Kane to take the fight elsewhere. They want no part of it.
Alone and betrayed, Kane is understandably terrified. He has lost his long-time friends, his wife, and soon he is likely to loose his life as Miller is due to arrive by train at high noon. Gary Cooper does an excellent job of portraying Kane's fear without seeming cowardly. But despite having lost everything he refuses to run. He will face Frank Miller no matter how terrified he is.
In movies we're accustomed to seeing the hero face down and defeat armies of opponents as if it were merely a day at the office. That is what made High Noon special for its time. Will Kane is understandably fearful in facing a gang single-handedly and knows he would likely face defeat, but he stays anyway.
Still not all appreciated the film and it is said that the later film western, 1959's Rio Bravo starring John Wayne, is a counter-point to High Noon. Both films have their merits and both have their own depiction of heroism. But High Noon has, I think, the most telling portrayal of a hero. The story of a man, who while completely terrified, opts to stay and do the right thing regardless of the cost.
– – – – – – – – – – – – – – –

The author, Jesse Schultz, really does live in the West and frequently becomes nervous when the clock strikes twelve.  Two of his previous blog posts on Merlin and The Makers of Fire will appear in our new book Heroic Leadership: An Influence Taxonomy of 100 Exceptional Individuals.