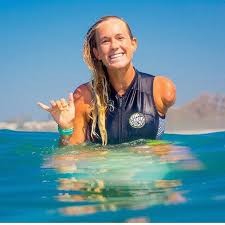 By Evelyn Barringer
Bethany Hamilton was on the path to be a hero from a young age. With her two parents and brothers being competitive surfers, she was destined to be great, yet no one could have predicted the traumatic event that would take her local heroism to a world wide scale.
Being a young surfer with as many trophies and wins is impressive in itself. But the fact that she is a young female surfer in a sport dominated by men caused Bethany to be seen as a role model and mentor to children, and especially girls, in Hawaii. To locals, Bethany was on her way to becoming, if not already, a hero. Then, disaster struck.
When Bethany was only 13 years old, she lost her arm from a tiger shark bite while surfing. Her entire left arm was bit clean off. It seemed this tragedy signified the end of her surfing career, given the fact that two arms are crucial for paddling and balance and the assumption that she would be terrified to ever enter the water again after such a horrific accident.
Yet this assumption could not be farther from what happened. Not only did Bethany get back on her board and into the water, she continued to compete in able body tournaments and grew into a pro surfer and hero. Her heroic status started locally as surfers and residents in Hawaii heard of her overcoming such odds. Then, with the help of movies, books and TV, her heroism spread nationally.
She follows the traditional hero journey. She is living a normal life like everyone else her age, aside from her gift of surfing. Yet she faces a significant hardship she has to overcome.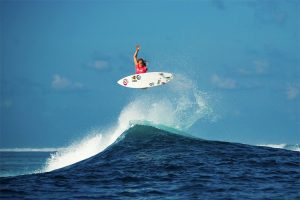 Bethany, at first, is lacking the determination to continue her fight to surf after it appears harder than she expected.
Like most heroes are at some point, she is distraught and on the verge of giving up when she finds a mentor. She has support from family, friends and coaches, but her most impactful mentor was Sarah Hill, her youth director at church. Through their relationship Bethany grew to be able to motivate herself and find the confidence she was missing.
Finally, to finish the traditional heroic journey, Bethany overcomes the hardship and uses what she learned to inspire and connect with others. Today, she is still a surfer but spends a lot of her time working with injured and disabled patients and being a motivational speaker.
Bethany was able to reach a heroic status due to her relatability. She was a totally normal girl prior to the accident and continued to live a life of normalcy. Getting back into surfing was more of a way for her to continue with her life than an attempt to draw attention and fame. This sense of normalcy made those who admired her feel like they knew her and she developed a following of people who saw her as an ordinary girl who overcame extraordinary odds which elevated her to a position of heroism and made her someone people could look up to.
Her most heroic act and largest impact is her ability to provide people with hope. From young girls hoping to become surfers to handicapped adults, she was able to inspire and provide hope to countless individuals. Her ability to overcome such odds provides hope to anyone with the odds stacked against them, especially those with disabilities that were also once considered detrimental. Her ability to provide hope to able body and handicapped people of all ages demonstrates her resounding heroism.
– – – – – – – – – – – – – – – – – – – – –
Evelyn Barringer is an  undergraduate student at the University of Richmond. She wrote this essay as part of her course requirement while enrolled in Dr. Scott Allison's Heroes & Villains class.