There's a first time for everything. The milestones that mark human history can be very illuminating and enlightening, giving us insight into the essential nature of humanity. The first telescope; the first rocket flight; the first satellite; the first man in space; the first expedition to the Moon. These are the events by which we measure our progress as a species; but there are other firsts that are more subtle, yet equally profound.
Canadian Chris Hadfield is a former test pilot and astronaut, who has served as commander of the International Space Station. In his long career as an astronaut, he has been director of NASA operations in Star City, Russia, chief of Robotics at Johnson Space Center, chief of ISS Operations, and chief CAPCOM at Mission Control at Kennedy Space Center. His accomplishments have earned him numerous civilian and military honors in both Canada and the United States. As the first Canadian to walk in space, he was commemorated by the Royal Canadian Mint on silver and gold coins.
He also happens to be a musician. And thereupon we find a unique milestone.
While serving as commander of the space station, Colonel Hadfield recorded the first music album in orbit. His songs were released on Earth through CBC Radio in Canada and YouTube.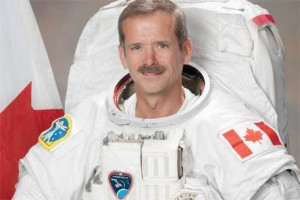 Then he struck gold. Before returning home, he filmed the first music video in space, a cover of David Bowie's "Space Oddity," which became a surprise overnight sensation. The astronaut from Earth became the rock star from outer space.
In the two years since his retirement as a space traveler, Hadfield has not only built upon his success as a singer and musician, but has also used his newfound fame as a springboard to a new career as an inspirational speaker. It is something at which he excels. He talks of facing fear and death while standing on a thin trellis three hundred miles in the sky; he talks of the minutiae of living on a tiny raft bobbing perilously in the airless void of space; he talks of the amazing discoveries that have been made and the priceless knowledge yet to be gained; he talks of traveling into the future and gives simple directions that anyone can understand.
And he sings. He sings his shanties of the sea of space.
People come to listen by the hundreds and by the thousands. His appearances sell out and the venues overflow. Millions more have heard his voice and his message on the Internet, and television, and in print media. He inspires that spirit of adventure and discovery that both compels us and defines us.
For the human race is defined by the Arts and Sciences. There is no dichotomy; they are two sides of the same coin. It is the sense of wonder in the heart that inspires the explorations of the mind. Chris Hadfield has used his gift of music to lift up the eyes of those who might not otherwise have seen the stars.
– – – – – – – – – – –
Rick Hutchins was born in Boston, MA, and has been an avid admirer of heroism since the groovy 60s. In his quest to live up to the heroic ideal of helping people, he has worked in the health care field for the past twenty-five years, in various capacities. He is also the author of Large In Time, a collection of poetry, The RH Factor, a collection of short stories, and is the creator of Trunkards. Links to galleries of his art, photography and animation can be found on http://www.RJDiogenes.com.
Hutchins is a regular contributor to this blog.  Two of his published essays, on astronaut and scientist Mae Jemison and the Fantastic Four's Reed Richards, can be found in our book Heroic Leadership.