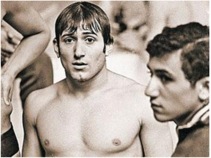 By Sharon Novikov, Matt Rosenthal, & Russell Pine
Shavarsh Karapetyan is a retired Soviet Armenian finswimmer. He is an 11-time World Record holder, 17-time World Champion, 13-time European Champion and 7-time Soviet Champion.
Despite his prolific accomplishments in the water, Karapetyan is much more well- known in the former USSR for his heroic, self-sacrificing actions on September 16, 1976. Just as he finished a 12 mile training run with his brother alongside the Yerevan Lake in Yerevan, Armenia, a trolleybus veered out of control, fell from the dam wall, and crashed into the reservoir, 80 feet from shore and 33 feet deep into the water. Karapetyan swam to the bus, and despite almost zero visibility in the dirty water, broke the back window of the bus with his legs and began pulling people out.
The trolleybus was crowded with as many as 92 passengers and Karapetyan knew he had little time, spending approximately 30-35 seconds for each person he saved. Karapetyan managed to rescue 20 people (he picked up many more, but 20 of them survived), before the combined effects of the freezing water and wounds from broken glass rendered him unconscious, where he remained for 45 days. The damages sustained from his selfless, heroic act included subsequent sepsis (due to the presence of raw sewage in the lake water), and lung complications, ending his athletic career. Today's experts agree that no one but Shavarsh could have been physically able to do what did, and the passengers on the bus are lucky that he was there when the crash happened.
Karapetyan's feat was not immediately and widely recognized. The photos from the accident scene were censored and released to the public only two years later, and the first newspaper article about this accident and Shavarsh's heroic rescue actions was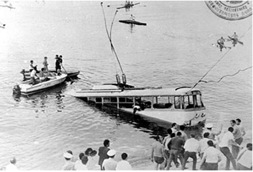 published six long years after the incident. The publication revealed that he was the rescuer, making his name a household name in the USSR. Subsequently, he received about 60,000 letters and was awarded a medal "For the Rescue of the Drowning", the Order of the Badge of Honor, and a UNESCO "Fair Play" award for his heroism.
To this day, Karapetyan doesn't consider his act as heroic or extraordinary. When asked how he managed to do what he did, he humbly replied, "I was simply closer to the crash than anyone else." He also admitted that he would have rather died than not jump into the water that day. That was his only choice. He simply did what he knew was right, what he was supposed to do in such situation, no matter how difficult and dangerous it was.
Perhaps the most remarkable aspect of Karapetyan's feat is that he wasn't satisfied with the number of people he managed to save. Later describing the incident, he said, "I knew that I could only save so many lives, I was afraid to make a mistake. It was so dark down there that I could barely see anything. One of my dives, I accidentally grabbed a seat instead of a passenger… I could have saved a life instead. That seat still haunts me in my nightmares." Karapetyan managed to save the lives of 20 strangers in the dark, toxic waters, and he's still haunted by the 21st he could have saved instead of the seat cushion.
Incredibly, Karapetyan found himself in another heroic situation nine years later. On February 19, 1985, he happened to be near a burning building with many people trapped inside. Without a second of hesitation, he ran into the building and began pulling people out to safety. Again, he suffered serious personal injury,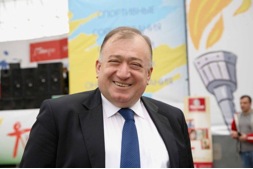 this time in the form of severe burns to his body, and spent many weeks recovering in the hospital.
When his wounds healed and he felt better, Shavarsh got back to practices and managed to set yet another world record swimming with a scuba set for a 0.25 mile distance in 3 minutes and 6.2 seconds. This was his eleventh and last world record. He couldn't proceed with his athletic career, as his injuries severely impaired his health, and he was forced to leave his outstanding sports career behind.
Karapetyan made a great moral contribution that was only possible through his exceptional swimming ability. His heroic act was one of incredible personal sacrifice and valor. While he doesn't follow the typical monomythic hero path, his courageous behavior, coupled with an admirable sense of humility, exemplifies the heroic definition of someone who makes great contributions that require both great morality and great ability.
Throughout his life, Shavarsh never sought recognition and never claimed any credit for his super-heroic acts. After leaving his sports career he has been living a simple life, working as a school principal and raising his three children. Today he owns and operates a small shoe repair shop in Moscow called "Second Breath."
– – – – – –
Sharon Novikov, Matt Rosenthal, & Russell Pine are undergraduate students at the University of Richmond. They wrote this essay as part of their course requirement while enrolled in Dr. Scott Allison's Social Psychology class.