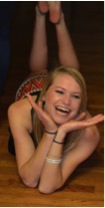 By Paige Venables, Jess Hollis, and Chelsea Davies

Katelin Peterson, a former student athlete at the University of Richmond who majored in psychology and served as captain for the varsity women's field hockey team, has left a legacy and continues to inspire an ever-growing list of individuals. Besides her impressive resume of athletic and academic accomplishments, Katelin brings a smile and a positive attitude to any situation no matter how bad the circumstances. She believes wholeheartedly in Christianity and lives by her faith, always upholding good morals and values. Katelin is a remarkable leader in the classroom, on the field, and in her faith. She was involved with Fellowship of Christian Athletes and often inspired others by sharing her testimony at Fellowship of Christian Athlete events.
During the summer of 2011 her team received an email explaining that Katelin was in the hospital suffering from a serious blood infection known as septicemia. She was in and out of the hospital for weeks, receiving treatments and tests yet continued to stay positive and fight to get better in time for the fall season. Septicemia often results in death due to gradual organ failure but Katelin never questioned God's plan and beat the dire odds against her, eventually making a full recovery. When she returned to the University of Richmond she still was able to perform well and lead the team. In order to prepare for the grueling two-a-day practices Katelin had to complete her summer workouts in front of a fan because sweating was dangerous for her due to the nature of the infection.

She didn't dwell on her own setbacks but continued to work hard not only for herself, but also as a mentor for the rest of the team. She led the field hockey team to an Atlantic 10 Conference Championship Title and a bid to the NCAA Sweet Sixteen and received academic and athletic Atlantic 10 All-Conference Honors.
Since her graduation from the University of Richmond, Katelin has become an advocate and volunteer for Fellowship of Christian Athletes, spreading her story and her faith to new generations of young athletes. Her goal is to go into missionary work in the future. Her chosen profession is as noble and uplifting as she is.
Katelin is a member of the University of Richmond field hockey team whose presence is sorely missed by all. On the first day of fall 2012 preseason, Katelin surprised the entire team by traveling all the way from her home in sunny California to be at the University of Richmond at the 7 o'clock morning practice where the team was about to run their first and most dreaded fitness test. Upon seeing cheerful and smiling face teammates reacted with powerful emotions, many crying and laughing out of joy and disbelief. It was only fitting that Katelin would get the team through their most difficult first day.
Katelin has exuded the best qualities a person can possess. Anyone who knows her has been touched by her presence and continues to remember her effervescent personality fondly. She is both a role model and a hero for any who hear her story.
– – – – – – – – –
Paige Venables, Jess Hollis, and Chelsea Davies are undergraduate students at the University of Richmond.  They are enrolled in Scott Allison's Social Psychology course and composed this essay as part of their course requirement.