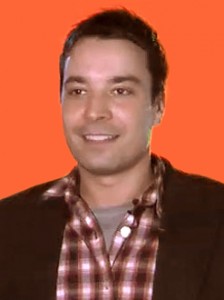 By Scott T. Allison and George R. Goethals
When one of us was a young boy, his mother often mentioned that actor and singer Pat Boone was the celebrity she most admired.  The reason?  "He's genuinely a nice guy," she said.  More than thirty years later, one of our daughters, at age 14, became a great fan of actor and comedian Jimmy Fallon.  The reason was a familiar one:  "He's genuinely a nice guy," she said.
In an age when celebrities routinely make the news for their bad behavior, it is refreshing to find examples of decency and virtue.  These rare shining lights in the entertainment industry are heroes to many young fans who are thirsty for good healthy role models.  In an earlier blog, we described the uncommon integrity of actress and producer Tina Fey.  Perhaps not coincidentally, we now turn our attention to one of Fey's former sidekicks on television, Jimmy Fallon.
Fallon began his career doing stand-up comedy, but he achieved his fame during a five-year stint as a cast member on Saturday Night Live.  While on SNL, Fallon showcased great versatility:  He could sing, play the guitar, do impersonations, and perform in skits.  Well-liked by both his fans and fellow co-stars, Fallon began to cultivate a reputation for being a genuinely good guy, almost generous to a fault, a person who always made himself available to fans.  Fallon eventually left SNL appeared in a few successful movies, and was then given his own show on NBC, Late Night With Jimmy Fallon.
All along his professional climb upward, Fallon has remained a modest, likeable person. He recently appeared on the cover of Rolling Stone magazine with the caption, "The eternal sunshine of Jimmy Fallon: Can anyone really be this nice?"  When he hosted the Emmy Awards, headlines roared, "Jimmy Fallon brings nice guy image to the Emmys".  

One reviewer wrote, "Fallon was puppy-dog eager, a nice guy who wants to please his guests and his audience. He's a TV star who never pulls rank, a celebrity who seems to see himself as an equal to his fans."
With celebrity narcissism running rampant these days, Fallon's humility is inspiring.  "The fact that I get to work in TV is beyond belief," he said.  During NBC's snafu involving Jay Leno's and Conan O'Brien's talk-show time-slots last year, Fallon wisely steered clear of the clash of egos.  "I'll do my show at 3 in the morning," he said. "I'm just happy to have a show." When Fallon was named one of People magazine's 50 Most Beautiful People, he described the honor as quite "embarrassing."
On his Late Night show, Fallon always shows great respect for his guests and genuinely wants to have fun with them.  "When I write jokes about people, I do it in the nicest way, because I don't dislike anybody," Fallon says. "I love everybody, and I love the whole business that we're in."  He prefers the style of taking "a little playful jab here and there," and he wants his guest stars to be in on the joke, rather than being the butt of the joke.
As befitting a hero, Jimmy Fallon has devoted his time and money to many worthwhile charitable causes, including the Food Bank for New York City, Stand Up To Cancer, AIDS research, Robin Hood's anti-poverty programs.  To millions of people, Fallon sets a great example for how to treat people, conduct oneself, and handle success.  Our daughter, who once adored him as a young teen, is very grateful to have had Jimmy Fallon as a role model during her impressionable years.  She's still a big fan, and so are we.
Below is an amusing interview of Jimmy Fallon.