The following blog post finished 3rd in our recent contest for a free autographed copy of our Heroes book.  Each week we will post another hero profile in the top 5.  Congratulations to all five of these excellent entries.  — Scott Allison and George Goethals

By Bridget Fischer
Heroes are people who do not rest on their laurels.  They continue to improve society by doing everything in their power to make a positive difference.  This is exactly how high school football coach Ed Thomas lived his life.
Ed Thomas coached at Aplington-Parkersburg High School in Parkersburg, Iowa.  He held that position for thirty-seven years and won a total of 292 games. He also led his team to two state championship titles and coached four young men who currently play in the NFL.  In 2005, the NFL named him High School Coach of the Year.
These accomplishments alone are very impressive and prove Thomas' outstanding ability to work with young adults. But he was more than just a football coach.  He not only taught his players how to perfect their football skills, he also guided his players to be good people in all aspects of life. His top three priorities were family, faith, and A-P High School football. Thomas was a town leader and is known for having turned generations of Parkersburg boys into men. He lived a life of pure intentions and true virtuous character, and he taught these ideals to his players.
His compassion for the students and the community became most evident in May of 2008 when a tornado devastated Parkersburg. Many homes and buildings were destroyed, including the athletic facilities at Aplington-Parkersburg High School. Ed Thomas rallied his team and the community to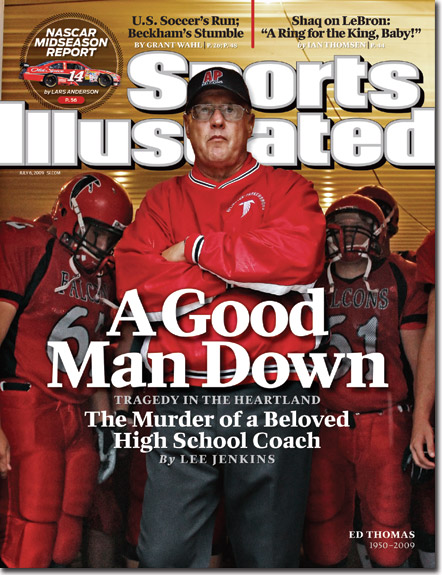 take it upon themselves to fix the stadium and field before opening day in September. Inspired by his enthusiasm and support, the football stadium was restored in time for the home opener. He had truly become a source of hope and leadership.
In June of 2009 Coach Thomas was running a summer program to help keep his team in shape. On the morning of June 24th, while the team was working out, Mark Becker, a former player of Thomas', walked into the locker room and shot Ed Thomas multiple times, killing him instantly. Becker suffered from paranoid schizophrenia.  The team, the school, and the community were in shock.
The loss of Ed Thomas was especially devastating and unbelievable to his family and players. The impact he had on the community extended far beyond the football field. A powerful positive force that had graced the community for so long disappeared with no warning or reason.
The strong family values Thomas had passed down to his sons shined through during the aftermath of his death.  Just hours after the shooting, his son Aaron asked members of the community to pray for and support the Becker family. The Thomas family instantly reached out to the family of the man who had killed their husband and father, revealing the overwhelming power of forgiveness. The Beckers, along with the entire community, were astounded at the Thomas' family's compassion.  In July of 2010 the Thomas family received the Arthur Ashe Courage award at the ESPYS, honoring Ed's influence during his career as a football coach as well as their ability to forgive under the most difficult of circumstances.
Ed Thomas is a hero not only by excelling in his profession as a football coach but by also going beyond the call of duty and touching his players' lives in a way they will never forget.