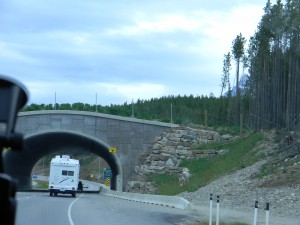 This summer I visited Banff National Park in Alberta, Canada and we spent a lot of time driving on the Trans-Canada Highway. All along the TCH in Banff National Park, there are wildlife overpasses and underpasses that allow wildlife to safely cross the road without risking collision with vehicles on the road. I took a picture of one of the two overpasses currently in the park (it's a little blurry). Having learned about habitat fragmentation and the importance of corridors in other classes, I decided to look more into this specific case.
The purpose of wildlife underpasses and overpasses is not only to protect the animals from the immediate risk of road mortality caused by park infrastructure, but also to help maintain a stable and diverse wildlife population. Because the Trans-Canada Highway is so large and heavily used, it has become a huge barrier for wildlife, which restricts their movement and habitat area, and eventually leads to a less diverse population because they are confined to a smaller habitat patch, and eventually can lead to extinction. Road mortality can also have an effect on a species' population in a shorter amount of time (1-2 generations) than edge effects caused by the road. The project created is called The Banff Wildlife Crossings Project and was started in 1996.
In Banff National Park, they have created various measures of wildlife crossing structures in order to attempt to solve this problem. There are two wildlife overpasses that span 50-m wide over the highway. They monitored the effects of these wildlife over and underpasses for five years. From this they discovered that they have reduced all road-kill by 80%. As to determine the effect of the over and underpasses on reducing habitat fragmentation, a longer-term study is needed. However, overall the project has been a success.