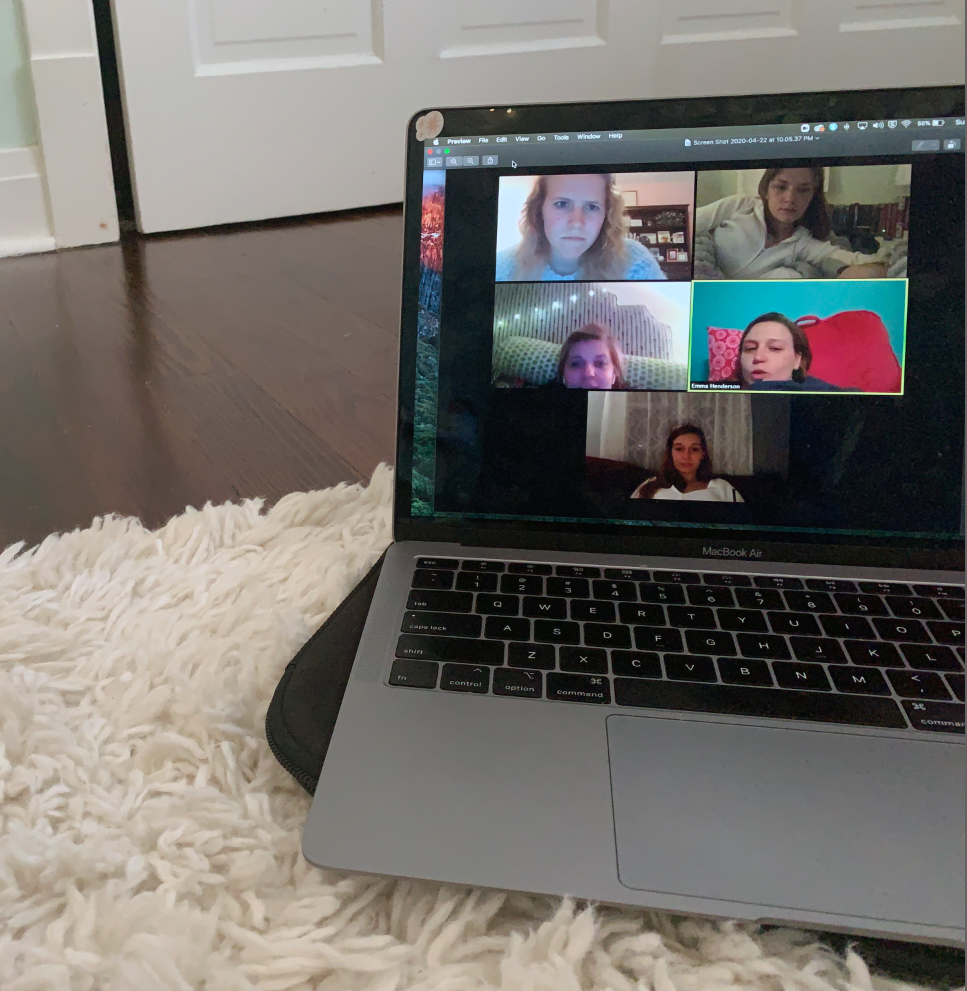 By Alexis Angelus
On March 6, my last day on campus, I said a tearful goodbye to my best friend as she dropped me at the airport. It was a temporary parting of course: we would see each other nine days later. We both looked forward to another glorious spring at the University of Richmond, and the festivities around our upcoming graduation in May. I'd decided to spend spring break back home in Winnetka, Illinois, a suburb of Chicago, hoping that a few days off from schoolwork would give me the time I needed to find a job.
Today I sit in my childhood bedroom, staring out at parades of families wearing ski masks, scarves, and bandanas as masks. My town is bursting with midwestern friendliness: You can't escape a wave as you walk down the street, or miss neighbors yelling to each other from across their driveways. Yet I don't feel much warmth.  After weeks of quarantine, an exact count of the days I have been gone from school escapes me, but the season does not. Trapped in a cold midwestern April, I feel a deep longing to be back in Richmond, to walk across the graduation stage, to hug my best friends, and to return to the warm embrace of spring in the South.
In other words, I am grieving.
College seniors have always been forced to answer the big questions, starting with: What's next? We question how we will pay off student loans, where we will work and how we will become financially independent. Now, during the COVID-19 pandemic and the worst job market in decades, we are even struggling to complete our educations.
While some universities have promised delayed graduations, other ceremonies have been canceled outright. Seniors across the country are missing the "lasts" that their final few weeks of college promised them. Many seniors were on spring break during the onset of COVID-19 and missed the chance to say goodbye.
Sofia Barnes-Horowitz, a senior at the University of Richmond, said she left campus without seeing her friends, thinking she would be back in a mere 10 days.
"Now it feels like a sick joke that I left for spring break early and missed time with everyone."
For students still in session as other universities were closing, the impact of the pandemic on the end of their undergraduate careers remained hard to swallow.
"I remember sitting in my final class of the quarter, Financial Econometrics, joking with one of my friends that 'This might be the last in-person class of our undergraduate career,' not fully believing it to be true," said Tara Hagerty, a senior at the University of Chicago.
Uncertainty compounds this sense of loss. As states extend their shelter-in-place orders until May and June, students' ability to see their friends once again will be interrupted by job and internship start dates. Many seniors fear they will not be able to see friends, roommates or significant others for months.
"I don't know if it's actually hit me yet that I may never see some of my best friends again," Hagerty said.
Students like Bailey Busscher, who have made friends with exchange students, are particularly worried about being able to see their friends from other countries. Busscher, a senior at Stetson University, said she relies on video chats to stay connected with her friends from abroad.
Like Busscher, many seniors have been trying to stay positive by maintaining friendships in the virtual space. Hagerty said applications like Zoom and online games have been a lifesaver for her and her friends. However, their online relationship is no replacement for seeing friends in person, she said.
For many, coping with uncertainty has brought a new sense of perspective.
"Some days I just feel grateful to be healthy and safe with my family but a lot of days I just feel angry that this was all taken away from us so quickly," said Barnes-Horowitz. "It also makes me upset that I took so much of the past three and a half years — like the people, the experiences, and even just going to class — for granted."