Editor's Note:"Spider Sounds" invites members of the University of Richmond community to share their thoughts about CDs (or other items in the Parsons Music Library's collection). The links included will take you to the library catalog record for the item in question, or to additional relevant information. Today's post is a bit unusual — two different student workers actually have chosen to write about the same 2006 album by John Mayer. So we are presenting both Aly and Mary's individual takes on this album in the same post. Thanks to student workers Aly and Mary for contributing to "Spider Sounds"!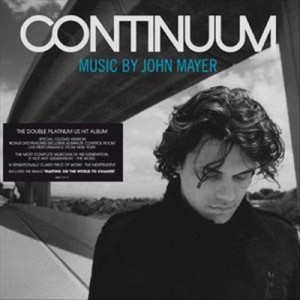 Aly's thoughts on "Continuum":
Continuum – John Mayer (2006)
Continuum, John Mayer's third studio album, is a fresh take on guitar-driven pop music. Chances are, you've probably heard a few songs from this album before, such as "Gravity," "Dreaming With a Broken Heart," or the uplifting "Say (What You Need to Say)." These songs all come together on an outstanding album, which dominated the 49th Grammy Awards – there, Mayer performed "Gravity" live, then went on to sweep the titles for Best Pop Vocal Album and Best Male Pop Vocal Performance for the recognizable "Waiting on the World to Change."
As with all of Mayer's albums, Continuum features tracks with incredibly vivid lyrics that stand far above many other pop songs that tend to feature an overused dialogue. Mayer's messages are artful, inspirational, intelligent – they're quick and concise, and stick with you. In
Continuum, many songs have positive, feel-good themes that any listener would love.
To add to the rich lyricism in Continuum, many tracks have rich guitar rhythms throughout, both acoustic and electric – and Mayer himself does most of it. His technique is undeniably masterful, and should not go unnoticed.
My personal favorite track on the album is "The Heart of Life" (the song's refrain was actually my senior quote in my high school yearbook!). A sunny, poetic dialogue, effortless vocals, and a fresh guitar foundation – the track embodies everything that makes John Mayer a standout pop singer-songwriter.
********************************************************************
Mary's thoughts on "Continuum":
If you're looking for songs that are deep and meaningful, John Mayer's third album called Continuum is the way to go. His songs in this album invite you to look at the world, your relationships, and your own life and ponder upon them. After listening to his songs, you would feel as if any brokenness or uncertainty are relieved temporarily. His calm voice placidly talks to you as if you're sitting with your close friend at a café on a fair day, just talking about how life is going.
If you feel like you have a lot of burden in your life, come check out Continuum at the Parsons Music Library and let music share your burden for a bit.